Leica X1 APS-C compact camera
Latest firmware tweaks on test
---
Imaging resource
Evidently, the X1 is not a fast shooter in any respect but when you get to spend some time with it then its more enduring qualities shine through. If you can accommodate its slow pace you'll be impressed by its refreshing ease of use and its amazing photographic strengths.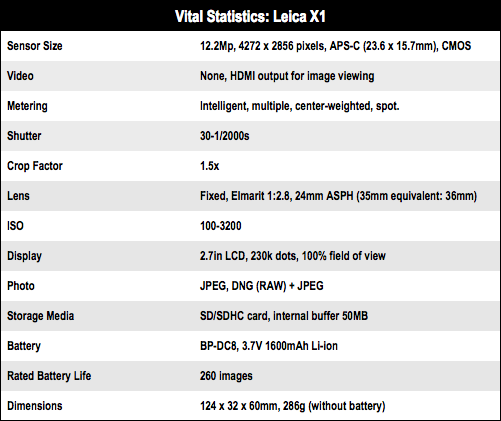 The picture quality of the images the X1 produces is nothing short of stunning. The richness of detail in both shadows and highlights, the smooth tonal gradation, the superb Bokeh and the lack of any lens aberration are truly commendable; outclassing any compact currently on the market and, no doubt, a few DSLRs too.
White balance was consistently good in every situation and exposure metering reliably accurate. Noise performance is terrific and by far the best I've seen in a compact. Images are sharp throughout the sensitivity range with only limited noise appearing from 1600. The noise that does show is mostly of the luminance type though, somewhat comparable to a grainy film and, which, in my view, is not at all unpleasant.
The X1's RAW capture is in the DNG (digital negative) format developed by Adobe. The camera can shoot in JPEG mode or JPEG+DNG but not DNG alone. It uses SD and SDHC memory cards and has a nominal battery life of 260 images per charge but the battery I was issued with didn't last nearly as long as that, so you should budget for a spare.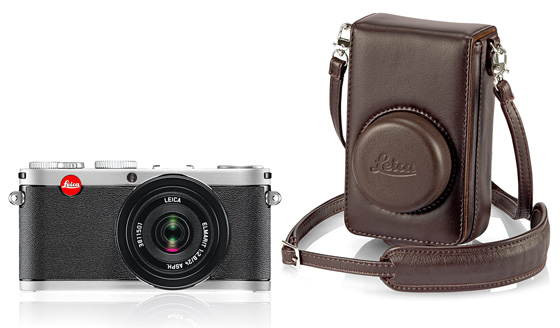 Retro flourishes are appealing, but a better display and a more responsive AF would be more practical at this price
Verdict
The Leica X1 easily delivers the best image quality in its category, as you'd expect from the company, but, at the price of a DSLR, with a few performance issues still unresolved and a mediocre LCD screen, it's unlikely it will win over large shares of compact users.
Having said that, if you are a photo purist, a die-hard Leica aficionado or need the best picture quality a compact can offer, then the X1 is worth every single penny. And considering Adobe Photoshop Lightroom 3 is also included, which costs around £250, it could well be a price worth paying. ®
Catherine Monfils is a professional photographer specialising in portraiture, lifestyle and fashion.
More Compact Camera Reviews…

Ten…
Pocket compacts
Nikon
Coolpix P300
Fujifilm
Finepix X100
Olympus
PEN E-PL2
Leica
M9

Leica X1 APS-C compact camera
APS-C shooter with a top quality wide-angle lens and neat manual controls.