You are the ecosystem, the ecosystem is you
So far, so coherent. The ecosystem will be unified by allowing apps to run on both Windows 8 PCs and tablets.
In one respect, that beats Apple. With Apple, developers must write apps for either the iPad and iPhone or the Mac.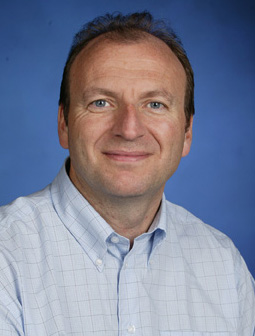 Andy Lees: one Windows core, one ecosystem?
But about Windows Phone, the third part of the equation? Were Lees and Thompson suggesting future Windows phones would run Windows 8 or the successor to Windows 8?
That brings us on to another important word in Lee's statement: "core". This is less nebulous than "ecosystem", and it suggests Microsoft is working towards a model where phone, PC, and tablet run on the same core APIs and frameworks but do not have exactly the same operating system.
This makes Microsoft's strategy more like Apple's. Apple has OS X for Mac and iOS for the phone and tablet, but both platforms use the same Darwin kernel.
So far, we have few technical details about Windows 8, but there are plenty of promises from Microsoft and plenty of optimistic projections from Windows fanbois. So far, we don't know exactly how it will work across PCs and tablets or just how far the XAML architecture allow developers to write once and deploy anywhere on Windows 8. More will be known once the operating system hits beta in September.
While Windows 8 certainly looks like Windows Phone – it has the same tilled and touch-enabled interface – Windows Phone is not Windows 8. It's not even Windows 7. It runs a combination of Microsoft's Silverlight media player and XNA managed runtime environment for graphics and media, with Windows CE 7 kernel. Windows CE was the brand of Windows Microsoft put on phones before Windows Phone 7. It was not the same code base as Windows running on the PC.
Mobile choices
To put the same Windows on phones, tablets, and PCs would mean Microsoft moving off of Windows CE. Also, there's the question of what happens to Silverlight. Microsoft's media player uses XAML, and this fits into the Windows 8 story, but Silverlight has now been demoted by Microsoft as the preferred interface for PCs and devices on the web in favor of HTML5.
Is Microsoft moving to one Windows? The company has been moving to a single set of development tools for Windows and its applications over the years. Also, it has dropped different versions of Internet Exploder for PC and mobile. There is now just one browser. With that in mind, one Windows looks likely. ®
Similar topics