The crew of space shuttle Atlantis have said their farewells to the residents of the International Space Station, and closed the hatches between the shuttle and the orbiting outpost for the last time.
Commander Chris Ferguson, pilot Doug Hurley, and mission specialists Sandy Magnus and Rex Walheim were joined by ISS commander Andrey Borisenko and his fellow Expedition 28 crew members for a brief ceremony in the station's Harmony node. Ferguson thanked Borisenko for his hospitality, and his team's efforts in unloading the Raffaello multipurpose logistics module.
Earlier today, Magnus and Hurley used the Canadarm2 robo-manipulator to move Raffaello back into the shuttle's cargo bay (see pic). After more than a week's box-shifting to empty the module, it was packed with 5,666 pounds (2.57 tonnes) of waste and old hardware for return to Earth.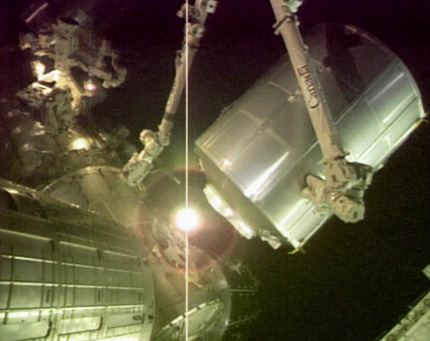 NASA says: "Over nearly eight days, crews aboard the shuttle and station unloaded 9,403 pounds [4,265 kg] of spare parts, spare equipment and other supplies from Raffaello – including 2,677 pounds [1,214 kg] of food – that will sustain space station operations for the next year."
Between bouts of box-shifting, the combined Atlantis and Expedition 28 station crew members did find time to pose for this fetching snap: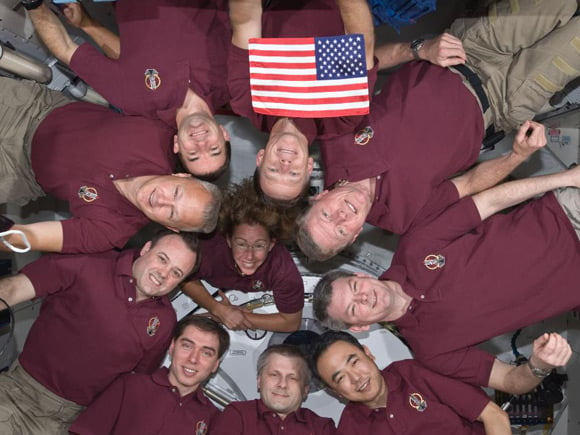 NASA explains that the US flag flew on the first shuttle mission – that of Columbia STS-1, which launched way back on 12 April 1981.
The agency adds: "The flag returned to orbit on this mission to be presented to the space station crew. It will remain onboard until the next crew launched from the US retrieves it for return to Earth. It will then fly from Earth again, with the crew that launches from the US on a journey of exploration beyond Earth orbit."
The Expedition 28 crew seen in the pic are: JAXA astronaut Satoshi Furukawa; NASA astronauts Ron Garan and Mike Fossum; and Russian cosmonauts Andrey Borisenko, Alexander Samokutyaev and Sergei Volkov. "Shuttle and station commanders Ferguson and Borisenko are in the 12 o'clock and six o'clock positions, respectively, on the circle," NASA notes.
Atlantis will undock from the ISS tomorrow. The latest from Atlantis' swansong STS-135 mission is right here. ®