Networking giant Cisco Systems has cranked up the amount of juice its Catalyst 4500E switches can pump out over Ethernet to 60 watts – another step toward its goal of making its switches the throbbing heart of the modern office.
The Catalyst 4500E switch was announced last October with 848Gb/sec of aggregate switching bandwidth – twice that of the product it replaced – and offering up to 384 Power over Ethernet (PoE) ports running at 15 watts each. With the 4500E switch module, which has a total of 48 ports, Cisco also supported the Power over Ethernet Plus (PoEP) standard, which delivers 30 watts over the Ethernet cable down to IP telephone handsets and thin clients, and has enough juice to fire up 240 of said juicy ports.
Now, with Monday's announcement, Cisco is supporting what it calls Universal Power over Ethernet (UPoE), and that doubles the power down the line to 60 watts. However, the new scheme reduces the number of devices that the chassis can support at that full power to 120.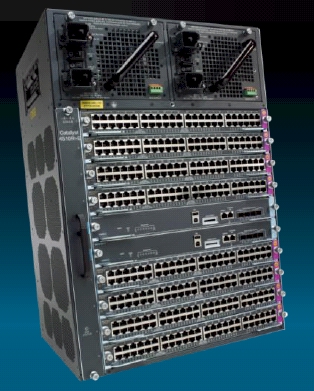 Cisco's juicy Catalyst 4500E modular switch
UPoE is not yet a standard, but like PoE an PoEP, Cisco hopes it will become one.
The 60 watt power level is important because that's enough zip to power client devices on a minimalist corporate desktop, including an IP phone plus a thin client and display that are enabled to support the UPoP standard. The 4500E UPoP linecard can support Cisco's own IP phones, personal telepresence systems, compact switches, and wireless access points.
Samsung's NC220 netbook-style thin client has been tweaked to draw its power over an Ethernet cable without requiring a separate AC adapter and power cord. BT's Netrix console for its integrated trading system (which has 20 phone lines and a video screen and looks like something out of a bad 1950s sci-fi flick) has also been tweaked to draw its power off a UPoP Ethernet cable. Oracle's Sun Ray thin clients have been tested and work with the Ethernet power draw, too, without modification.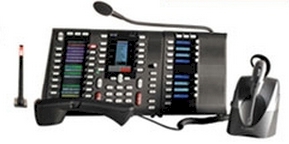 BT's Netrix trading turret
The latter makes use of a splitter cable that allows network traffic to go into the device through an Ethernet hack, and for a separate power line to be pulled off the Ethernet cable to plug into the power port of a low-powered DC device. This splitter cable will be available in September.
The Catalyst 4500E switch is one of the most popular products that Cisco sells, with more than 700,000 chassis (not line cards, but enclosures) of the 4500E sold to date. ®
Similar topics