Don't touch that dial: Ofcom's annual report devotes more space to diversity targets and the quango's own carbon emissions than it does to the state of British radio.
The regulator touts its Times award as one of the Top 50 employers for women and Stonewall Award as a Diversity Champion in its 114-page state-of-the-quango annual bulletin. And another page describes its carbon footprint reduction programme and how its corporate responsibility goal is to "engage, inspire and develop colleagues while proactively seeking to support our local community".

(If you're wondering where that is, so are we. The HQ is by Southwark Bridge, a stone's throw from the City. Maybe they help out impoverished financial traders).
Yet with the digital switchover stalling, the only mention of DAB is in the glossary. Ofcom tells us it has licensed more community radio stations, and that listening reached an all-time high. It also reminds us that the new broadcasting code has relaxed rules on sponsorship.
But that's it.
There's no mention of the switchover target date, how the criteria are being met (or not), or whether or not the regulator is happy with it.
Six pages are devoted to its internal governance.
The Coalition Government announced a digital radio switchover plan a year ago, promising to make a decision in 2013. The switchover would move the major broadcasters over from analog to DAB, leaving around 200 million radios offering a lot of static (and a few community stations).
If you want "the state of the nation" summary that Ofcom doesn't want to give you, you could do worse than speed-read this debate we reported back in April. The comments from Absolute Radio's Adam Bowie and UTV's Jimmy Buckland are particularly relevant. Also note the moving goalposts.
Earlier this month, Culture Minister Ed Vaizey said that 14 per cent of new cars have DAB as standard. That's still a lot that don't – over 99 per cent of all cars, in fact.
Ofcom found room to deliver other nuggets, such as the fact that half of all households now buy a bundle, that the typical household spends £91.24 on communications products and services, and that fewer punters switched suppliers in TV, mobile, fixed or broadband in 2010 than they did in 2009. All very interesting, but it makes the radio silence all the more curious.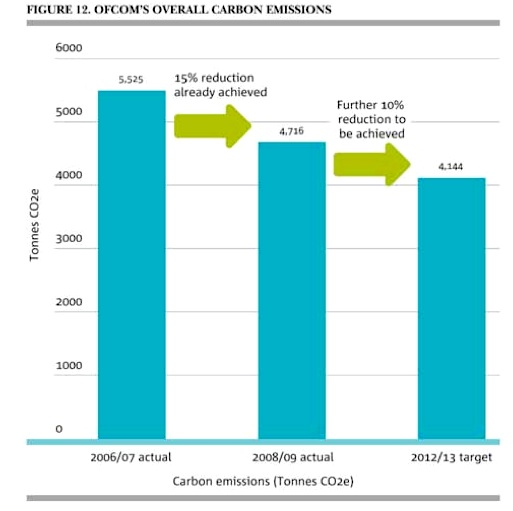 Hold your breath: Ofcom reduced its CO2 output in 2010
The Conservatives vowed to abolish uber-regulator Ofcom, or at least reduce it to a table, a few chairs and a kettle. The quango says it has reduced spending by 28.2 per cent in real terms, or £26.7m, and says the budget for next year will be £116.2m, down from £145.42m in the last year. £53m came from licence and administration fees – which Ofcom says it has cut – but £102m came directly from the taxpayer.
In its rather obscure S400 accounts – which are excluded from the Annual Accounts – Ofcom said it had returned £197m in income back to the taxpayer, including the interest on the fees. These come from use of the public spectrum, and include licences from a range of broadcasters, ranging from tiny radio stations up to TV broadcaster Channel 5. Ofcom can also levy fines: last year these totalled £235,000.
Ed Richards' remuneration is revealed, with a basic salary of £284,963, and allowances and other perks taking it to £363,539. He waived a £15,000 performance bonus. Ofcom points out this is a 10 per cent pay cut. ®
Related Link
Ofcom Annual Report and Accounts 2010-2011