Class act?
Taps don't require much pressure, and they're signalled with a 'ripple' graphic that's handy for newbies but old tablet hands will want to turn off but can't.
HP's capacitive touchscreen seems sufficiently responsive, but there is a lag, more to do with the OS than the hardware, I think. I'll return to that point - for now, the TouchPad's face shows up fingerprints more than the iPad does.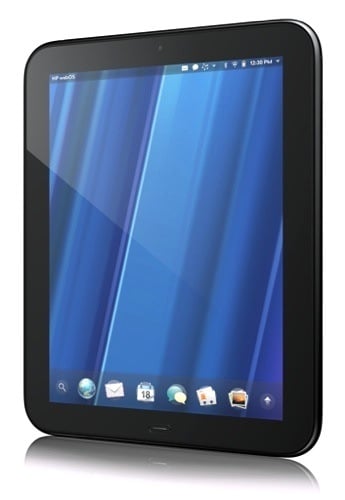 HP has chosen the right aspect ratio for the screen
The glossy black plastic back of the TouchPad does too, and gives the gadget a cheaper feel than it ought to have, given what HP is charging for it. This is a leitmotif. I mentioned the flexible screen, but you can add a rattly power key - on my review sample, at least - and the gaps in the case for the two speakers.
With no iPad around, the TouchPad would seem a classy act. Compared to the aluminium-clad Apple product, it's a lot less luxurious than the price suggests it should be. That's a mark of how Apple has lifted the quality perception bar.

Just thinner than the first iPad - but it doesn't feel that way in your hands
The speaker holes also make the TouchPad a little uncomfortable to hold in portrait mode - I found the lower one grated against my palm. The sound they produce isn't bad, mind, but not stand-out-from-the-crowd good. Stick to headphones.
There's no dock connector, just a micro USB port, on the bottom when the tablet's in portrait orientation. There's no camera on the back - another sign HP's design dates back to before adding this unnecessary feature became vogue - but there is a basic webcam on the front that taps into WebOS' integrated Skype functionality.