Working with WebOS
Below the screen is the Home button, but not the iPad's circular affair, just a slim rounded oblong that's easy to miss, especially without a graphic to aim for. There is wee backlit strip, but it's not always illuminated, so I often found myself stabbing at it and missing the mark.
On an iPad, the Home key takes you to the app list, but on here it reduces the currently running app's screen and parks it alongside the minimised screens – "cards", HP calls them – of other running apps. Tap one and it opens to full screen, but only if you tap the one in the middle of the screen, not the others you can see.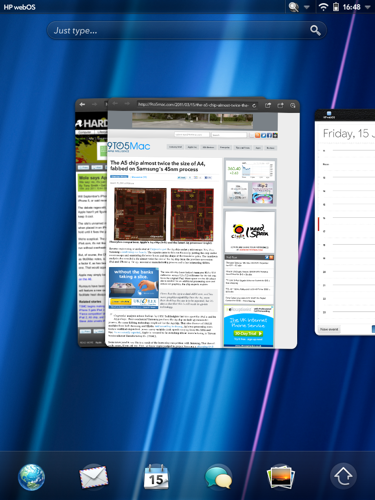 WebOS show running apps' windows, not merely their icons
There is an iOS-esque dock for regularly run apps to save you swiping along the line of cards to find the screen you want. All the dock icons can be changed except the right-most one, which pops up an Android-style Apps menu, next to which the tablet's Settings appear under a separate tab.
The Settings themselves are implemeted not in one, all-encompassing app but as individual programs, making the process of changing several of them at once more of a chore than it need be: you constantly have to return to the Home screen, then to the Apps menu, then to the Settings menu and from there to the next setting you want to change.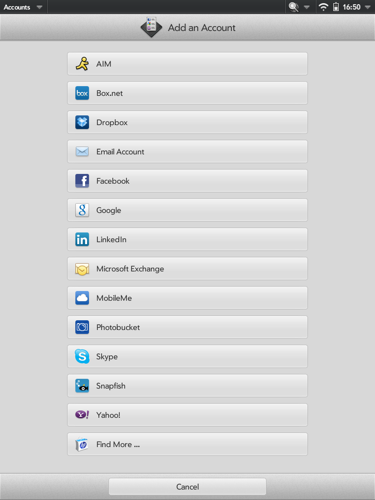 WebOS supports many online services out of the box... but not Twitter
And, Settings being apps and WebOS designed for true multi-tasking, you can end up with your card line full of individual settings screens. Each app can be quit by dragging its card to the top of the screen. Apps with multiple windows – the browser, for example, when you're viewing more than one site at once; no tabbed browsing here – stack their cards one on top of the other.
Cards are live. Open an app, immediately hit the Home key and you'll see the app continue to load up within the card – handy since WebOS has looooong initial app load times. Rotate the tablet and browser cards don't simply turn, they reflow the content to match the new orientation. Yet video doesn't play in minimised form, at least not with WebOS' built-in Photos & Videos app.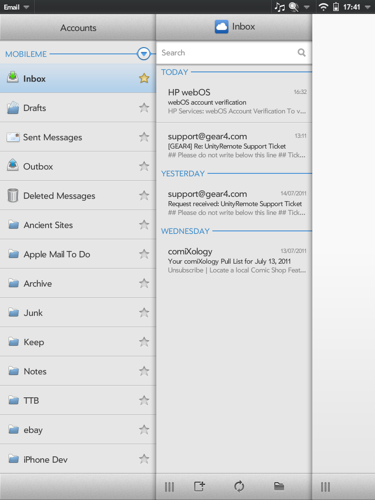 The e-mail client works well
And here we come to the real problem with the TouchPad: not its hardware, not its OS, but its apps. I don't like munging my photos and my videos, for starters, but I'm more irritated by the program's limited array of supported video formats: H.264/MPEG 4 at sub-standard definition is your lot.