Tapping the apps
I can understand Apple, which has videos to sell you, imposing such limitations, but not HP, which doesn't. Especially when it not only allows you to drag and drop pictures, music, movies and other files over USB into the TouchPad's storage space but – get this – doesn't care how you organise them: anally archived or chaotically dumped in the root directory, supported files are automatically found by the apps that can view them.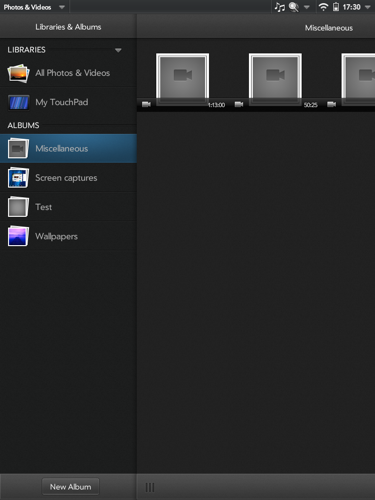 What movies are those, WebOS' Photos & Videos app?
I dragged a whole load of different file formats, but Photos & Videos only showed the MP4s and M4Vs - and only those with an SD resolution or less. Not one of them was presented in the app's content listing with either a name or a still-frame preview to tell me which was which. WebOS looks great, but that doesn't matter a damn if you can find the content you want.
WebOS' apps are full of these kind of instances where HP's coders have focused so much on the bigger picture, they miss the details. WebOS is designed to interface with numerous online services, its philosophy being these should be in no way distinct from locally stored information. I approve, and I'd give this aspect of WebOS all my praise, if only it was implemented equally in all apps.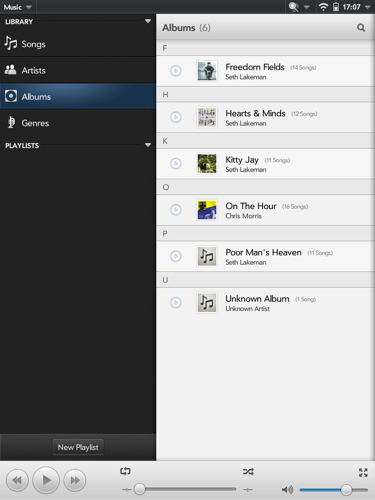 The Music player app is more informative
So, TouchPad lets you tie in your MobileMe account, but only for documents – iDisk access, basically – and e-mail. Forget for the moment that MM is doomed, set to be replaced by iCloud. Anyone with an MM account, ie. migrators from Apple, will want to sync over their contacts, calendars, bookmarks with their TouchPad. Well, they can't.
Calendars supports Facebook, Google, Exchange and Yahoo!, while contacts supports those four plus Skype and LinkedIn. The IM app adds Aim. There's no Twitter support, anywhere.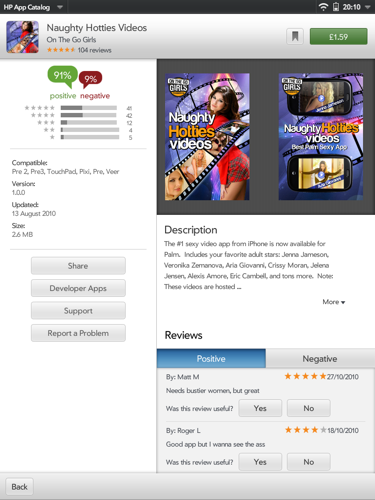 Not what you'd see in the app store – but the punters still aren't happy
Fortunately, there is a Twitter client you can download, but if you're hoping to get all those services you have on an iPad there, you'll likely be out of luck. Want to watch AVI files, for instance? There's nothing you can download. Ditto if you want to read e-books, other the Pré-centric one that doesn't go full-screen. Lots of the content I regularly consume on my iPad can't be viewed on the HP.
Sponsored: Practical tips for Office 365 tenant-to-tenant migration