Functionality not out of the box, not on the app store
That's not to say apps won't come in time - WebOS has a thriving developer community - but early TouchPad adopters will not find the tablet as flexible a media consumption device as they would an Android machine or even, thanks to the iTunes stores, the iPad.
Most of the TouchPad's pre-loaded apps are good, do what they say one the tin and do it well. The minor flaws they all incorporate are not (mostly) deal breakers and can be fixed through updates.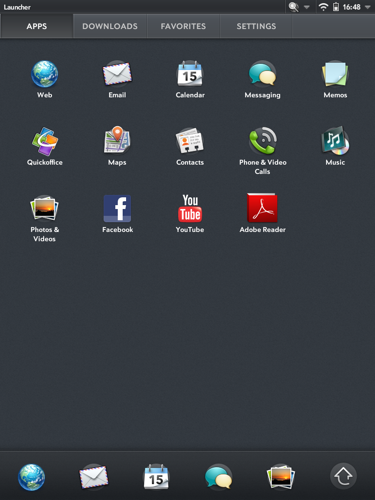 Pre-loaded apps appear in WebOS' Android-like Apps panel...
The TouchPad's lack of processor oomph won't be as easily fixable, however. Most of the time, the tablet operates smoothly, but on too many occasions there was a tiny but perceptible lag between action and consequence. Screen rotations are not instantaneous. Swipe up from the base of the screen to go to the Home view, and the app will scroll for a second before it figures out what you really want to do. Switch into a video and it can take a second or so for the movie to start playing.
This doesn't look good alongside a first-generation iPad let alone the iPad 2 and the new generation of Android tablets.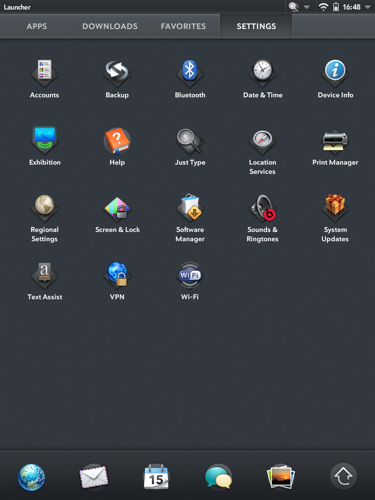 ...as do Settings, each a standalone app
It doesn't really matter where the balance between OS, memory capacity and CPU speed lies when it comes to a tablet's responsiveness, the point is my original iPad is more so than the TouchPad, and it's more than a year older.
So HP has a tough sell to make even if other factors, such as the availability of apps, were equal. And they're not.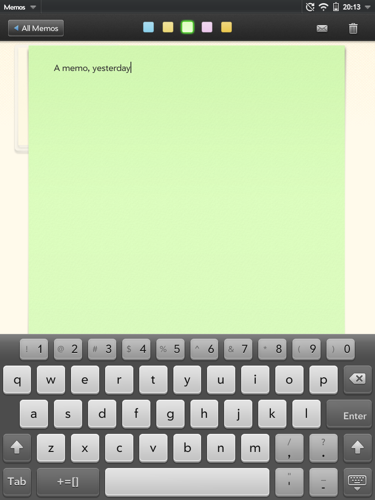 WebOS has a great, inclusive keyboard
This is a shame because, niggles aside, WebOS is a good tablet OS. Its multitasking is intuitive and just need a less clunky way of presenting apps. It has the best virtual keyboard there is, one that not only has numbers and symbols as well as letters, so there's far less switching between keyboard types, but also a Tab key for quickly moving between data fields.