Nice OS, shame about the hardware
Apple, please take note of WebOS' keyboard layout - and of the operating system's drop-down menu that provides direct access key functions. iOS 5 really should be offering this.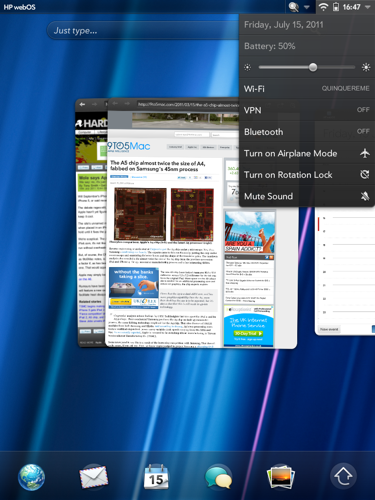 iOS users will envy WebOS' handy drop-down key settings menu
HP likes to emphasise Just Type..., WebOS' joined-up search system, but iOS does that and Android has Google search, which is probably more useful to most folk. Generally, it's easy enough to look in Contacts if you know you're trying to find a contact, but there's no harm in keying in someone's name first.
HP has to be commended for avoiding the easy way and just chucking out yet another non-descript Android offering. God bless the good ship plurality and all who sail in her. Likewise, the company deserves kudos for choosing an odd, yet exactly right screen ratio.
But I suspect many punters won't get to try the TouchPad and WebOS in earnest simply because of the other issues, from the quirky performance of the hardware to the current paucity of key apps and services. I really like WebOS, but I won't buy a TouchPad because it will play too little of my content and – frankly – for the same money I can buy something else that will.
Verdict
HP creates a great generation-one tablet and brings it to market right when the generation-two rivals are hitting the scene. If you dislike Apple's arrogance and Android's Windows-of-the-tablet-world strategy, you'll live with the TouchPad's media playback limitations, revelling in it as a neat internet tool. If you're are WebOS die-hard, ditto
But though the TouchPad has many qualities, and would have made a great iPad rival a year ago, today it's too behind-the-curve at too high a price to thoroughly recommend. ®
Thanks very much to PC World for the review sample
More Tablet Reviews

Apple
iPad 2
Asus
Eee Pad
Transformer
Motorola
Xoom
RIM
BlackBerry
PlayBook
HTC
Flyer

HP TouchPad 32GB WebOS tablet
A 9.7in tablet that offers a true alternative to Android and Apple.
Price:
£399 (16GB) £479 (32GB) RRP