NASA has welcomed United Launch Alliance aboard its Commercial Crew Program, and the two organisations will investigate the possibility of using the Atlas V lifter (see pic*) to launch astronauts into low-Earth orbit.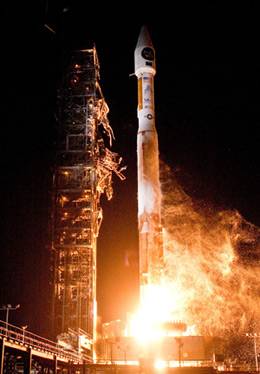 NASA head honcho Charles Bolden said of the deal: "I am truly excited about the addition of ULA to NASA's Commercial Crew Development Program team. Having ULA on board may speed the development of a commercial crew transportation system for the International Space Station, allowing NASA to concentrate its resources on exploring beyond low-Earth orbit."
George Sowers, ULA's vice president of business development, said: "We believe this effort will demonstrate to NASA that our systems are fully compliant with NASA requirements for human space flight.
"ULA looks forward to continued work with NASA to develop a US commercial crew space transportation capability providing safe, reliable, and cost effective access to and return from low Earth orbit and the International Space Station."
ULA's expendable Atlas V is one option to get US 'nauts back into space following the imminent retirement of the shuttle fleet. Until a suitable vehicle is found, NASA will rely on Russian Soyuz spacecraft to carry its people to and from the ISS.
The Atlas V rocket family is already used by NASA and the Department of Defense for "critical space missions", and "since their debut in August 2002, Atlas V vehicles have achieved 100 per cent mission success in launches".
The vehicles feature "a standard common core booster", with customers able to add "up to five strap-on solid rocket boosters", according to their lifting needs. ULA has more on the Atlas V here. ®
Bootnote
*ULA elaborates: "An Atlas V rocket lifts off carrying the NROL-34 mission for the National Reconnaissance Office". NROL-34 was a classified satellite payload which blasted off from Vandenberg Air Force Base in California on 14 April this year.
Similar topics