This article is more than 1 year old
iPhone plunges 13,500 ft from skydiver's pocket - and lives
Parachutist able to locate it with 'Find my iPhone'
A Minnesota skydiver's iPhone 4 slipped out of his pocket at 13,500 feet, landed on a factory rooftop, and lived to tell the tale.
Jerrod McKinney told CNN that he was "just absolutely shocked" when his high-flying iPhone still worked after the fall – especially considering that its glass had cracked when his toddler had earlier knocked it off a bathroom shelf.
After digging into his pocket for his phone after he and his parachute touched down, and realizing that his Jobsian handheld had taken its own, quicker route to terra firma, McKinney ran "Find My iPhone" on the iPad in his Ford F150 Raptor, and learned that his iPhone was less than a quarter mile away.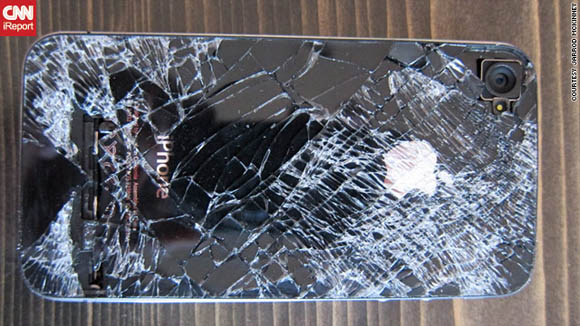 Takes a licking and keeps on ticking (source: CNN)
Driving his truck to the GPS-pinpointed landing site, he discovered that his iPhone was atop a factory, whose workers were outside enjoying "a post 4th of July company picnic," McKinney wrote when he first told his story on CNN's iReport. "After telling them why I was there, they offered to lift me to the roof to look for it."
And there he found it. Its "ultradurable" glass – described by Apple as being "20 times stiffer and 30 times harder than plastic" – was shattered, but its electronics were still sufficiently functional to communicate with a GPS satellite and tell Find My iPhone where it was.
From the factory roof, McKinney waved the phone to his wife, friends, and skydiving instructor Jumping Joe Johnson, who decided it'd be jolly fun to call McKinney – just possibly the magically durable phone might still work.
As McKinney rode his new-found factory friends' forklift back to the ground, his iPhone 4 vibrated inside its now-broken Incipio case. Jumping Joe's call had come through.
When CNN asked Consumer Reports whether they thought McKinney's story was plausible, one tech-editor wag – referring to his organization's scathing criticism of the iPhone 4's reception problems in the imbroglio known as Antennagate (which Steve Jobs denied) – suggested that the drop of 13,500 feet was beneficial.
"That's the proved method for fixing the antenna problem," he said. ®