What with all the hoo-hah on Wednesday over the release of Mac OS X Lion and updates to the Mac mini and MacBook Air, one nice new piece of Cupertinian kit slipped in under the radar: what Apple calls the "World's First Thunderbolt Display".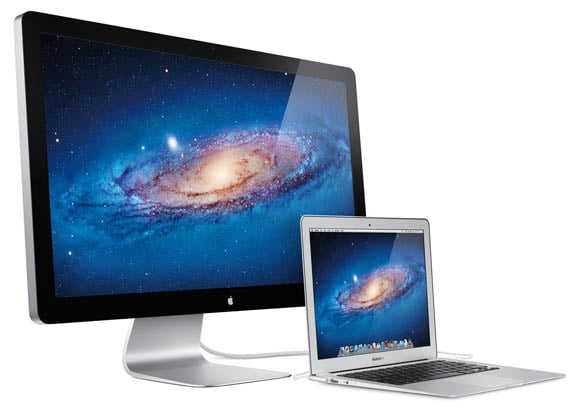 That's Apple's new 13-inch MacBook Air sitting in front of the 27-inch Thunderbolt Display (click to enlarge)
The 27-inch Thunderbolt Display has an LED-backlit, 2560-by-1440 pixel, 16:9, in-plane switching (IPS) screen, which Apple says has a brightness of 375 cd/m2 and a 1000:1 contrast ratio.
A single two-ended cable attaches to a Thunderbolt-equipped MacBook Pro or Air, one lead going to the notebook's MagSafe power port, and the other to its Thunderbolt port. When charging a MacBook Pro, the display's maximum power suckage is 250 watts.
The display has three powered USB 2.0 ports, plus one FireWire 800 and one Gigabit Ethernet port, all connected to its Thunderbolty host – MacBook Pro or Air, Mac mini, or iMac – through that single Thunderbolt cable. The display also has its own Thunderbolt port so you can daisy-chain up to five more Thunderbolt devices, such as La Cie's upcoming Little Big Disk.
The display also has Apple's FaceTime HD camera – an upgrade from the earlier iSight camera – and a 2.1 speaker system with 49 watts of oomph. There's also an ambient light sensor that'll adjust display brightness based on the level of lighting in its surrounding environment.
The Thunderbolt display will run you a hefty $999 when it becomes available in "the next 60 days", but you won't have to spend an additional $29.99 to upgrade to Mac OS X Lion to use it – it'll work just fine on Snow Leopard version 10.6.8. ®
Similar topics