This article is more than 1 year old
Baidu apes Google with Chinese Chrome
You want web stuff that works behind the Great Firewall?
Chinese search giant Baidu has launched its own web browser, aping Google's Chrome with web applications and aspirations of becoming a desktop replacement.
The Baidu Browser only runs on Windows, but it does have its own application store for web apps (which run in a Webkit-based sandbox) and an extension framework very reminiscent of Chrome's. The browser also offers extensive customisation options for managing shortcuts, creating a screen layout more reminiscent of Apple's iPad than anything else.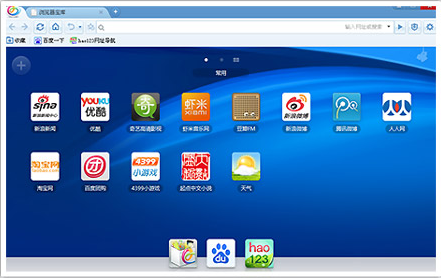 We tried to get a better screenshot, but our Chinese let us down during installation
There's a proper review over at Penn Olson, who liked the browser but felt that its reliance on IE for rendering basic HTML pages left it lagging behind competitors in following the latest web standards.
There's no Baidu Browser OS as yet, though persistent rumours suggest the company is working on an Android fork for mobile users. Just like Google, Baidu feels it should be in the platform business rather than just helping people find stuff. Baidu also has aspirations outside its Chinese roots, where it will have to fight Google on a level playing field.
Google is available in China, but uses servers based in Hong Kong and thus suffers through the Chinese Firewall. That firewall generates network errors and slows connections when Google is used, particularly when it is used for potentially sensitive searches. That makes Google look unreliable, and pushes users towards the domestic rival, which recently signed a deal with Bing to handle English-language searches.
Chinese manufacturers are renowned for copying successful products, even cloning an entire Apple store without telling the staff, but Baidu is replicating every element of Google's business model in a market where Google isn't around to compete. Having China as a revenue-generating base from which to attack other markets will enable Baidu to compete with Google, for better or worse. ®