Updated The US's space shuttle programme wrapped today at 09:57 GMT, as Atlantis touched down at Kennedy Space Center.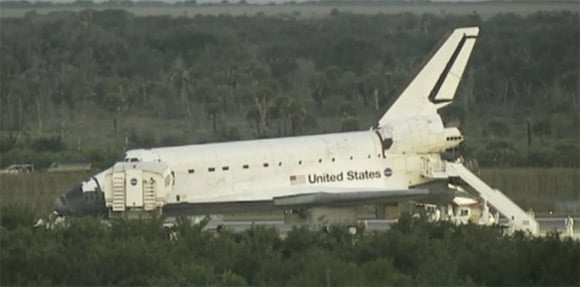 Commander Chris Ferguson, pilot Doug Hurley, and mission specialists Sandy Magnus and Rex Walheim became the last astronauts to fly a shuttle at the end of STS-135 to the International Space Station – Atlantis' 33rd mission after a long career which began on 3 October 1985 with STS-51J.
Speaking from Mission Control, STS-129 veteran Barry "Butch" Wilmore joined the love-in with: "We'll take this opportunity to congratulate you Atlantis, as well as the thousands of passionate individuals across this great space-faring nation who truly empowered this incredible spacecraft, which for three decades has inspired millions around the globe."
NASA explains that in total, Atlantis "spent 307 days in space, orbited Earth 4,848 times and traveled 125,935,769 miles".
Ferguson said just after landing: "The space shuttle changed the way we view the world and it changed the way we view the universe. There's a lot of emotion today but one thing's indisputable: America's not going to stop exploring."
There's live coverage of the post-landing activity at Kennedy here, and here's NASA's Atlantis retrospective. Despite what the voiceover says, the shuttle was of course reprieved after STS-132 for one last mission:
You can find a full list of Atlantis' missions here (PDF), and NASA pays full tribute to the space shuttles here. Among the material on offer is this video of Columbia's STS-1, which kicked off the shuttle programme on 12 April 1981.
NASA says: "Since STS-1 launched on April 12, 1981, 355 individuals from 16 countries flew 852 times aboard the shuttle. The five shuttles traveled more than 542 million miles and hosted more than 2,000 experiments in the fields of Earth, astronomy, biological and materials sciences. The shuttles docked with two space stations, the Russian Mir and the International Space Station. Shuttles deployed 180 payloads, including satellites; returned 52 from space; and retrieved, repaired and redeployed seven spacecraft." ®
Similar topics