This article is more than 1 year old
Fujitsu installs Windows 7... on a phone
Ctrl-Alt-Delboy
Here's Fujitsu's latest phone that - wait for it - runs Windows 7. No, not Windows Phone 7, but the complete Microsoft PC platform.
Fujitsu broke news of the handset today, announcing that the F-07C will be available in Japan by the weekend.
The company claims it's the "world's smallest PC that fits into the palm of the user's hand".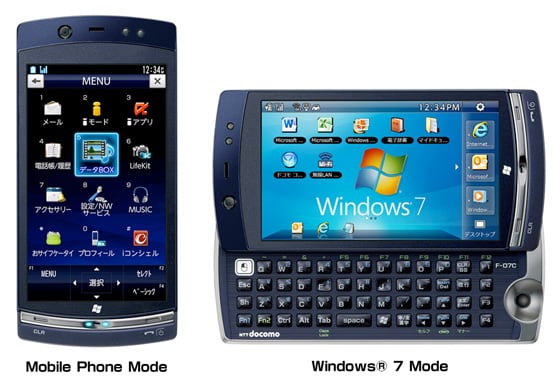 The F-07C packs a 4in, 1024 x 600 resolution display. Equipped with an Intel Atom Z600 processor running at 1.20GHz, as well as a two-year MS Office 2010 licence and Internet Explorer 9, the F-07C can be used as a fully-fledged PC. Apparently.
Users are able to switch between Windows 7 PC mode and phone mode at the push of a button.
Unfortunately, as it stands, the F-07C will only be available in Japan. We have inquired about potential availability in Blighty and we'll let you know when we hear back. I wouldn't hold your breath, though. ®