This article is more than 1 year old
Hubble detects new Plutonian moon
Small fourth companion for faraway icy dwarf-world
A Hubble Space Telescope search for possible rings around Pluto has turned up a diminutive fourth moon orbiting the dwarf planet.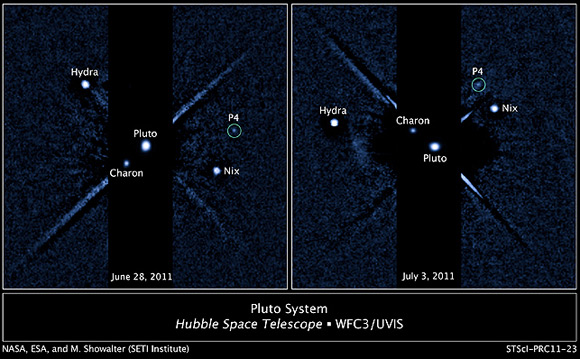 The body, temporarily dubbed P4, joins Charon, Hydra and Nix in the family circling the icy world. NASA says P4 is around 8 to 21 miles (13 to 34 km) in diameter, as compared to Hydra and Nix's 20 to 70 miles (32 to 113 km) and big brother Charon's 648 miles (1,043 km).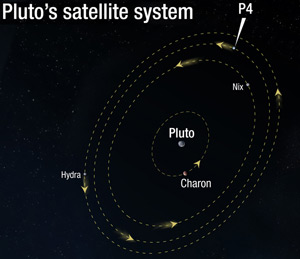 P4's orbit lies between those of Hydra and Nix, which Hubble also first spotted back in 2005.
Mark Showalter of the SETI Institute in Mountain View, California, who was in charge of this Pluto obervation programme, enthused: "I find it remarkable that Hubble's cameras enabled us to see such a tiny object so clearly from a distance of more than 3 billion miles."
NASA's New Horizons spacecraft is due to whizz past Pluto in 2015, and Hubble's work in peering at the dwarf's "ice and molasses" surface and moons will provide useful in planning the close encounter. Alan Stern, New Horizons principal investigator, said: "This is a fantastic discovery. Now that we know there's another moon in the Pluto system, we can plan close-up observations of it during our flyby."
Regarding Pluto's elusive rings, NASA notes: "Scientists believe material blasted off Pluto's moons by micrometeoroid impacts may form rings around the dwarf planet, but the Hubble photographs have not detected any so far." ®
Bootnote
NASA says of the P4 images above: "P4 was first seen in a photo taken with Hubble's Wide Field Camera 3 on June 28. It was confirmed in subsequent Hubble pictures taken on July 3 and July 18. The moon was not seen in earlier Hubble images because the exposure times were shorter. There is a chance it appeared as a very faint smudge in 2006 images, but was overlooked because it was obscured."