Google-eyed
Vodafone deserves plaudits for not swamping the Smart in bloat the way Orange did with the San Francisco. Yes there are a few Vodafone apps installed including a pre-pay account manager and music store. Yet in essence, this is Android as God Google intended, and all the better for it.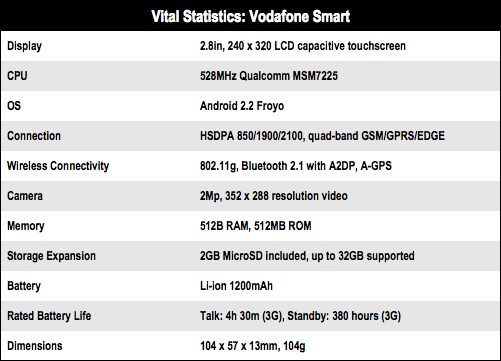 The camera is a 2Mp fixed-focus affair and frankly it's pretty grim. It's fine for shooting QR codes, if you have a steady hand or casual outdoor snapping but boobs-on-a-boar useless otherwise. Video can be recorded at a maximum of 352 x 288.
Reception, both cellular, GPS and Wi-Fi was good and I had no complaints about call quality. Making calls over Skype presented no problems and I was pleasantly surprised to find a proximity sensor on a handset this cheap, so that when you take the phone away from your ear the screen turns back on. The speaker is very good too.
Despite the small screen and lightweight CPU, the 1200mAh battery will only keep you going for a day and a half between charges, or at least it will after a few charge/drain cycles. The out-of-the-box duration was less than 24hrs. Cheap battery syndrome I suspect.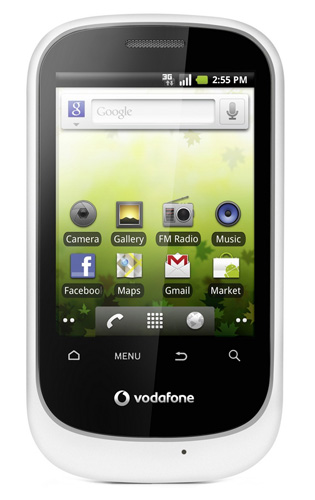 No powerhouse, but not a bad effort for the price
Top up by £10 each month and Vodafone will throw 500MB of data as well as 300 texts into the deal, and you can't really say fairer than that. Incidentally, the Smart is locked to Vodafone so swapping networks will involve something rather more complicated than just replacing the Sim.
Verdict
Though it runs Froyo and has a capacitive screen, the Smart has been ruthlessly built down to a price. Despite that, for talking, e-mailing, texting, navigating and social networking it's up to the job. Yes it falls down when faced with more demanding tasks, but a £75 mobile will never be the gaming or multi-media platform that a £400 1GHz Snapdragon handset is. The Orange SF is a better phone but then it's twice the price and still doesn't support Adobe's Flash player. ®
More Budget Android Smartphone Reviews

HTC
ChaCha
LG
Optimus One
Ten… budget
Android
smartphones
Motorola
Defy
HTC
Wildfire S

Vodafone Smart Android smartphone
Inexpensive Android 2.2 smartphone with a touchscreen A-GPS and social networking features.