Rupert Murdoch was never Keyser Soze
Childish media and creepy politicians created this myth
---
Comment If children didn't believe in Santa, thousands of grown men wouldn't dress up in fur-trimmed red jumpsuits, put on false beards, and give children unwanted gifts in tents every year. Perhaps some would, but they'd probably be arrested.
For the past fortnight, TV and newspaper editors in the UK have pushed aside stories of famine and the European financial crisis – which is greater now than the credit crunch three years ago – in favour of saturation coverage of the troubles of a rival media company.
This rival has real troubles, to be sure, which I will not attempt to diminish. But the volume and intensity of coverage is defined by the real size and reach of News Corporation. And this is not reality, but a myth. Just as children want a Santa, so too do editors and Prime Ministers want a "Murdoch" that resembles the omniscient movie villain/myth Keyser Soze. They've defined themselves by this myth.
"Never again should we let a media group get too powerful," PM David Cameron said today, tuning in to the editors' mood music. But like so many politicians before him, and specifically the past two Prime Ministers, he has done everything he could to bolster the Murdoch Myth himself. For most of the past two decades, politicians have tugged their forelocks at the Aussie-born tycoon, increasing his perceived influence with each pull.
Haven't they got the memo about Old Media being dead? Why are they so worried?
When you examine the evidence, it's hard to find evidence to support the Myth. The notion of Murdoch as a kingmaker massively exaggerates News Corp's real influence, and its economic importance. Murdoch has traditionally waited late in the day before backing the likely winner; a kingmaker, a groomer of young talent, he is emphatically not.
But before I go onto that, let's see how the myth was born.
The rise and rise of Rupert Murdoch
Murdoch's mythical power owes a great deal to Labour's failure to win the 1992 General Election, at a time when the UK was in a recession, and one new homeowner in four was in negative equity. The recession was deep and long, unemployment rose for three years. In other words, it was an election in which the incumbent should have been punished by the electorate.
After the defeat, Murdoch's Sun crowed that it was the Sun "Wot Won It".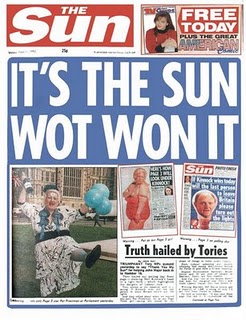 Labour blamed "the Murdoch Press", which was undeniably hostile.
But my recollection is somewhat different. By 1992, Kinnock was despised by the principled Left, and had become increasingly unintelligible to ordinary people over the years. He expected to win, and the "Nuremberg Rally" hardly helped. Have a look at that now on YouTube, and marvel.
1992 was an election a drunken horse should have won if it was wearing a Labour rosette, yet Neil Kinnock managed to lose it. Blaming Murdoch for spreading "false consciousness", allowed the ridiculous Kinnock to escape the blame.
Now, being on decent terms with a media tycoon is fairly sensible: you need access to the readers. Yet Blair, then Brown and Cameron decided to go much further. They bought into the Murdoch Myth and inflated it.
Ah, you say, what about News Corp's dominant reach, and his inexorable money-making machine? The facts don't quite bear this out.