Superman beats up cybersquatter
Man Of Steel takes back his web address
---
DC Comics has grabbed the cybersquatted domain name manofsteel.com, just a month before shooting is due to start on the next reboot of the Superman movie franchise.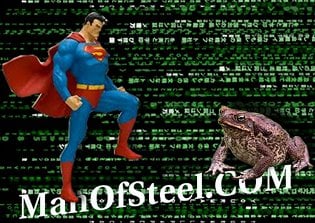 The next Superman film is widely expected to be titled or subtitled Man Of Steel. DC has owned a trademark on "Man Of Steel" since 1999 and "The Man Of Steel" since 1987.
DC recently filed a cybersquatting complaint using ICANN's Uniform Dispute Resolution Policy, trying to seize the domain from the person who registered it in 2001.
This week, it easily won the case, after a National Arbitration Forum panelist decided that the domain was an exact match to DC's trademark, and that it was registered in bad faith.
But DC does not own themanofsteel.com, nor supermanmanofsteel.com, both of which are currently registered to third parties. It has not filed complaints about these domains.
It has previously won UDRP complaints about domains such as batman-the-movie.com, which distributor Warner Bros is currently using to flog Batman DVDs.
Filming is reportedly set to begin on the next Superman film in Chicago and Vancouver in August, in time for a cinematic release before Christmas 2012.
Brit thesp Henry Cavill, last seen in The Tudors, has been cast as the Man of Steel himself, with redhead Amy Adams due to play love interest Lois Lane.
The film is expected to be another complete franchise reboot, with no connection to the poorly received 2006 attempt, Superman Returns, starring Brandon Routh. ®
Similar topics
Broader topics