This article is more than 1 year old
Kingston DataTraveler Ultimate G2 USB 3.0 Flash drive
SuperSpeed file swapper
Accessory of the Week If Apple won't go USB 3.0, at least almost every other computer maker has. While eSata, Firewire 800 and Thunderbolt are certainly better for desktop drives, SuperSpeed is the only choice when you want to copy files quickly onto a stick and go.
Kingston's DataTraveler Ultimate G2 is its latest USB 3.0 Flash drive, replacing the the first-gen drives that, while they performed well, had a tendency to get rather hot when connected and shuffling bits back and forth.

Kingston DataTraveler Ultimate G2: sneakernet speed demon?
The G2 retains the previous model's chunky casing, so if you like your Flash keys slim and discreet, this one isn't for you.
No, this boy is all about performance, and here it delivers.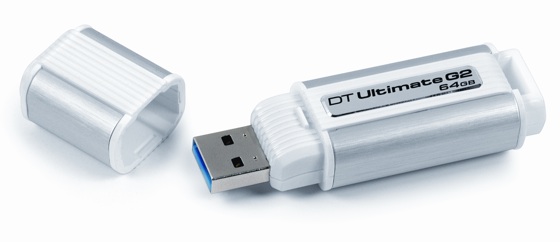 Chunky but cooler than its predecessor
My Crystal DiskMark 3.0 results show clearly the benefit of USB 3.0 over 2.0: a near quadrupling of sequential read speed and a tripling of the sequential write speeds.
Compared to one of the best USB 2.0 Flash drives tested in Reg Hardware's last big round-up - a few years old now, admittedly - the G2 doesn't disappoint over the old bus. So if you send a batch of files to a buddy without a SuperSpeed-equipped PC, he won't have an over-long wait while copying them off the drive.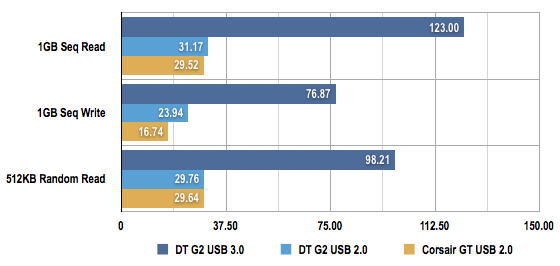 Speeds in Megabytes per Second (MB/s)
Longer bars are better
CDM 3.0's random speeds, particularly for tiny file sizes, is less impressive, even at USB 3.0 speeds. Clearly, SuperSpeed was tuned for sequential reads and writes, and given these kind of products are used for swapping batches of big files between machines, that's no bad thing.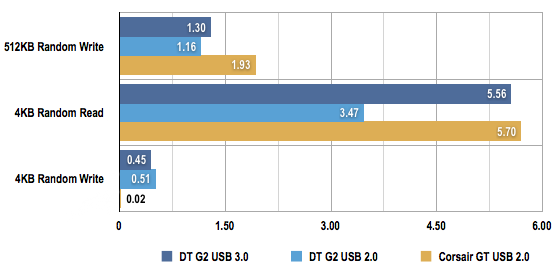 Speeds in Megabytes per Second (MB/s)
Longer bars are better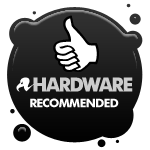 With the G2 or any other USB Flash drive, random read and write performance is far less important than it would be with an SSD.
As a 'sneakernet' drive, then, the Kingston G2 is not a bad little mover, especially for the £30 you'll pay for it online. ®
Reg Hardware chooses its Accessory of the Week every Friday. Got one in mind you want us to consider? Please let us know
More Accessory Reviews

Jabra
Stone 2
M-Edge
e-Luminator
Touch
Amazon Kindle
Lighted Leather
Cover
Zomm
wireless
leash
Sony
Ericsson
LiveView

Kingston DataTraveler Ultimate G2 USB 3.0 Flash drive
Inexpensive high-speed USB Flash drive for quick file swapping.