This article is more than 1 year old
Nuclear Mars tank to roam imposing crater
Red planet 'firmly in our sights', declares NASA boss
NASA has announced that its Mars Science Laboratory, aka Curiosity, will touch down in Mars' Gale crater, described as boffins' "top choice to pursue the ambitious goals of this new rover mission".
Gale crater is a depression 96 miles (154km) in diameter – covering "about the combined area of Connecticut and Rhode Island" – lying at 4.5° south 137.4° east. Curiosity's exact target is the foot of a mountain inside the crater, "rising higher from the crater floor than Mount Rainier rises above Seattle".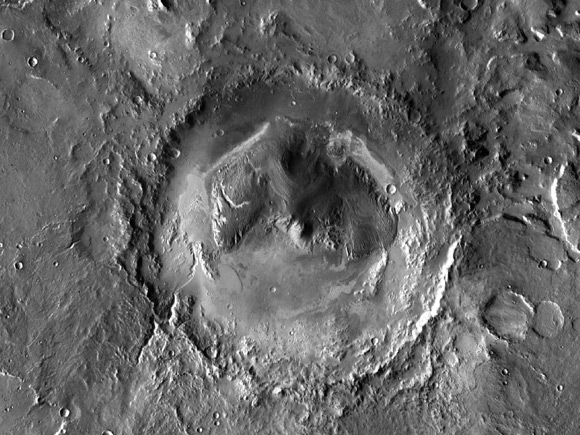 John Grotzinger, Mars Science Laboratory project scientist, explained: "One fascination with Gale is that it's a huge crater sitting in a very low-elevation position on Mars, and we all know that water runs downhill."
NASA elaborates: "The portion of the crater where Curiosity will land has an alluvial fan likely formed by water-carried sediments. The layers at the base of the mountain contain clays and sulfates, both known to form in water."
Curiosity is tasked with sniffing water, but also organic compounds - although Michael Meyer, lead scientist for the Mars Exploration Program at NASA HQ, described the chance of finding the latter as "a long shot".
He added: "What adds to Gale's appeal is that, organics or not, the site holds a diversity of features and layers for investigating changing environmental conditions, some of which could inform a broader understanding of habitability on ancient Mars."
NASA head honcho Charles Bolden was keen to big up the nuclear-powered Curiosity rover, following yesterday's wrap of the US shuttle programme. He declared: "Mars is firmly in our sights. Curiosity not only will return a wealth of important science data, but it will serve as a precursor mission for human exploration to the Red Planet."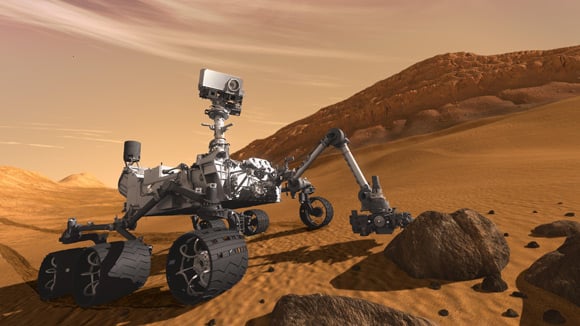 The mission is due to launch from Cape Canaveral between 25 November and 18 December. In case you haven't had enough of NASA's Connecticut / Rhode Island / Mount Rainier / Seattle comparisons, it describes Curiosity as "car-sized", although its weight in rhinos is not noted.
There's more on today's announcement here. ®