Open...and Shut I used to be able to bowl alone on the internet. Now I'm constantly forced into social interaction. I blame Tim O'Reilly. Or, rather, the misinterpretation of one of his core principles: "architectures of participation" – meaning systems that default to user participation.
O'Reilly didn't argue that users should be forced to participate, but that seems to be the direction many of his web acolytes have adopted to embrace his vision.
Take Klout. I signed up years ago out of curiosity (OK, I was hoping it would tell me I was cool – it didn't), and haven't used the system much since then. Back when I signed up, I created a user name and password that allowed me to log in.
Today, however, when I tried to log in so that I could snag an invitation to Spotify, I was forced to use Twitter or Facebook to authenticate. I tried in vain to find a way to use my old, generic login credentials, and ultimately opted to use Twitter to authenticate because it seemed less intrusive than Facebook authentication: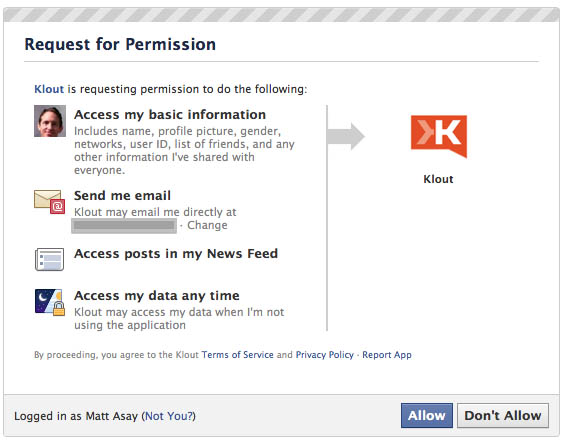 Info-sharing is becoming more and more mandatory
Making matters worse, Klout doesn't have any more invites to share, so I'm stuck with Klout having access to my Twitter credentials (Will it start spewing my Klout score to my Twitter followers?) and no Spotify.
Lose-lose situation.
Klout isn't alone. Twitter, Google+, and other social-networking services all default to open participation. I keep getting email notifications from Google+ telling me that so-and-so has added me. As seen below, there's apparently no cause for alarm: I don't have to follow them back. But unless I go out of my way to block them, they see whatever I share publicly.

Share your stuff publically, and it's available to world+dog
The onus to maintain privacy, in other words, is on me. I have been architected to participate, which sounds a lot more like an architecture of conscription into someone else's business model instead of delivering real benefits to myself.
These efforts, however, don't feel fully consistent with O'Reilly's vision. When O'Reilly suggests open source software development, HTML (view source), hyperlinking, and other open technologies as reflective of his "architecture of participation", he calls out their open invitation to participate more than any forced participation. No one is forced to contribute code to an open source project, nor is anyone forced to link to an article in The Economist.
We do these things because we can, and only when they yield substantive benefits to us.
Yes, certain open source licenses like the GNU General Public License compel contribution if, for example, one modifies the code and then chooses to distribute it, but this is very different from what Klout, Google, and others increasingly do. Facebook CEO Mark Zuckerberg may not believe that people still care about privacy, but however much our social mores my be shifting on privacy, odds are that people still want to the default setting to be "Private," not "Broadcast."
O'Reilly's "architecture of participation" is a Very Good Idea. But the execution of that idea by too many in the web world seems to be wrongheaded and potentially dangerous. ®
Matt Asay is senior vice president of business development at Strobe, a startup that offers an open source framework for building mobile apps. He was formerly chief operating officer of Ubuntu commercial operation Canonical. With more than a decade spent in open source, Asay served as Alfresco's general manager for the Americas and vice president of business development, and he helped put Novell on its open source track. Asay is an emeritus board member of the Open Source Initiative (OSI). His column, Open...and Shut, appears three times a week on The Register.
Similar topics