Murdoch parliamentary pandemonium: Shock snap
What really went down at the faceful-of-pie hearing
---
Exclusive We gather there's an isolated tribe of Papuan headhunters who have not yet caught up with the News of the World mobe-tapping outrage, but it's surely just a matter of time before the scandal reaches even the remotest pockets of humanity.
Among the 17.4 trillion column inches dedicated to the Biggest Story Ever™, however, no one has revealed what really happened when the head of News International copped a faceful of pie at Parliament's Culture, Entertainment and Sports Committee grilling over the affair.
Luckily, our man was on the spot to capture the full picture, which can share with you exclusively for the first time. Click on the snap for a bigger version: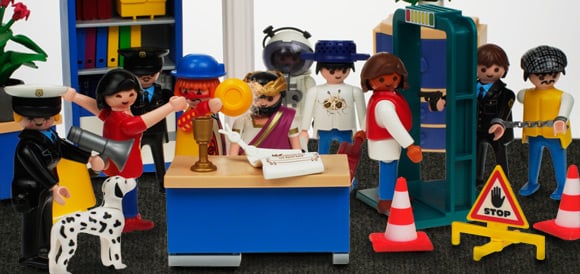 As we already know, one Jonnie Marbles lunged at Rupertus Murdochus Maximus Australis (or Keyser Soze as he's known in the lands east of Anatolia), and immediately earned himself a severe bitchslapping from Murdoch's volleyball-honed Ninja assassin missus Wendi Deng, before cops backed by dogs could intervene.
Deng's rage was matched only by that of an Austrian Pastafarian, seen centre in his ceremonial religious headgear, who was beaten to the punch by Marbles and missed his chance to flail Murdoch with boiled linguine* in protest at Fox News' lack of serious coverage of the Church of the Flying Spaghetti Monster.
The copper on the right, meanwhile, has just monocuffed a one-armed bloke from Belarus for applauding the wild scene, and is attempting to prevent a female member of Mexico's Sinaloa drug cartel from smuggling Rebekah Brooks out of the country in a suitcase, before the former NotW editor is sentenced to some seriously hard time.
Oh yes, in case you're wondering, the astronaut at the back isn't involved in any way in the rumpus. He's a chap from NASA who just wandered in, having nothing better to do. ®
Bootnote
*Al dente, naturally. It's pretty pointless trying to batter someone with overcooked pasta.
Related stories
You can find all of our previous Playmobil exclusives right here.