Philips BDP7600 Blu-ray player with Net TV
Silver surfer
---
Simple surfer
There is also an internet browser that works quite well, within limits, but simplified mobile versions of sites usually work better on a TV screen because they are less fiddly to navigate around with the remote. It can be prone to locking up from time to time and the browser lacks JavaScript or Flash capabilities, however, so a lot of sites won't work fully.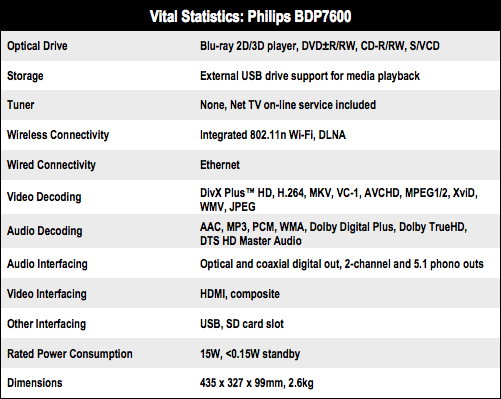 Of course, the main purpose of the Philips BDP7600 is disc playback. The Blu-ray version of Inception is presented as slickly as ever, while the colourful CG animation Legend of the Guardians, looks effective in full HD 3D. As far as sound is concerned, the highly detailed DTS-HD Master Audio soundtrack of Tron Legacy is suitably punchy, especially during the lightcycle race in Chapter Seven.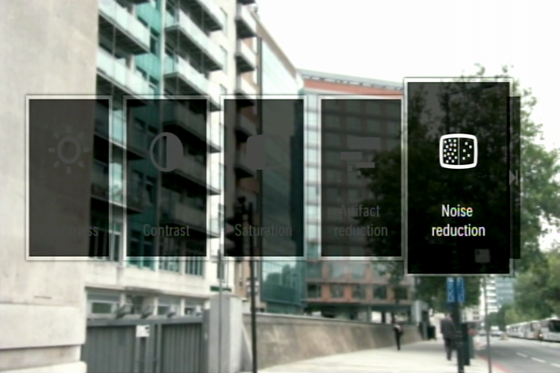 The user interface graphics do it large
It also does a good job of DVD upscaling, avoiding excessive graininess and blocky outlines. Edges can be a little oversharpened, creating a slight cardboard cut-out effect but you can easily tinker with the settings to make this less pronounced. Be careful with them, though, as these user preferences also seem to apply to Blu-ray, where you wouldn't really want extra processing applied.
Finally, one of the player's handy quirks is that discs can be ejected immediately if the player is sitting in standby, so you don't have to wait and power it up fully. After ejecting it then continues to start up normally, so it's ready to load something else.
Verdict
The Philips BDP7600 is user friendly, although its on-screen icons are massive, as if it assumes you are half blind or watching from 20 metres away. One or two niggles aside, it is a sleek, well designed device that produces a high-calibre picture. The DVD upscaling, clear audio delivery and wide ranging digital media compatibility also work strongly in its favour. ®
More AV Gear Reviews...

Samsung
BD D8900
Panasonic
DMR-BWT700
Arcam
FMJ BDP100
Virgin Media TV
TiVo
Sony
BDV-E370

Philips BDP7600 Blu-ray player with Net TV
3D-ready Blu-ray Disc player with wireless 'n' networking and Net TV.