Geek Treat of the Week Anyone who uses a wireless mouse has been there: the moment when you push or prod it and nothing happens - the battery has died.
If you're smart you have as many rechargeables as the mouse takes in there, and if you're really smart you have the same number again sitting in the charger, ready for use.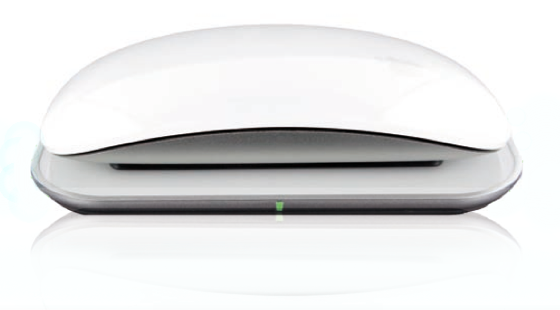 Wirelessly charge your Magic Mouse (not included)
A lot of us don't, and are left scrambling around for a pair of unused AAs or even a second, corded mouse.
Apple's rather good Magic Mouse may come tops for looks and button-less scrolling, but the battery chewing Bluetooth tech it uses means it's more susceptible to premature disconnection than many of its rivals.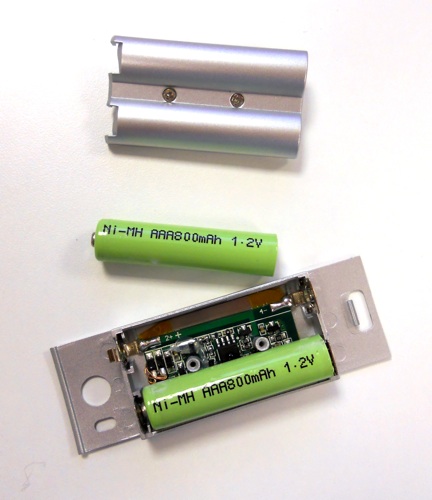 The battery pack's AA cells are removeable
Enter Mobee's appropriately named Magic Charger, and wireless recharging system for Apple's mouse. The set-up comprises and appropriately shaped and coloured - it's all glossy white plastic and metallic silver painted plastic - charging pad and a battery unit that clips into the mouse.
The charger runs off a Mini USB cable - hook it up to your PC or to a wee USB AC adaptor. The battery pack is a single unit that replaces the Magic Mouse's baseplate and contains two removable rechargeable AAA cells under a screw cover. The whole lot clips into the Magic Mouses just like its usual AAs and hatch cover do.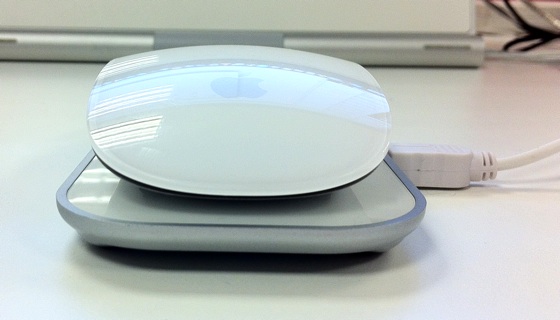 Step up to the plate
Being removable, the AAAs NiCads can be replaced when they lose their ability to hold a charge, and you can always take the whole pack off and drop in two AAs if you leave home without the charging pad.
The pad has a wee LED that signals what it's up to. It also has a couple of rubber feet to keep it sliding around the desk. Drop your mouse on top of it at the end of the day, and you'll have a fully fuelled rodent ready for you next morning.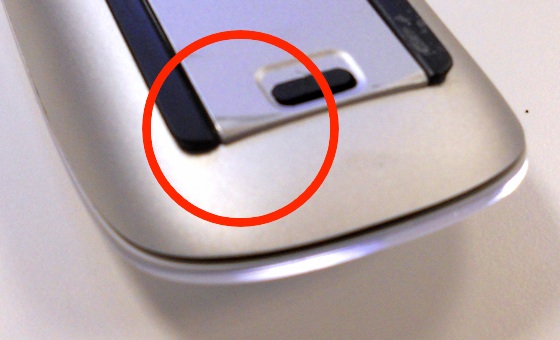 The battery pack's imperfect fit may hinder smooth running
The only flaw lies with the battery pack which isn't as well moulded and machined as Apple's kit is, so the new baseplate extends almost as far as the mouse's runners. On one corner, it extends fractionally further, and you can feel the friction, though use will quickly erode it down.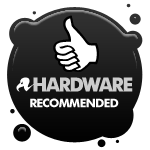 And, yes, it's more expensive than a quartet of rechargeables and a standard charger from the likes of Maplin. But no so much so that it outweighs the convenience you get from this very handy, unobtrusive gadget. ®
Thanks to Softline for the review sample.
Geek Treat of the Week is published every Monday. Got a gadget in mind you'd like us to consider? Please let us know
More Geek Treats

Ion Audio
iCade
Burg 5
watch phone
Jabra
Stone 2
Contour GOS
Bluetooth
camcorder
Amazon Kindle
Lighted Leather
Cover

Mobee Magic Charger
Keep your Apple Magic Mouse running without swapping batteries.
Similar topics