LOHAN: She's low orbit and helium assisted
Spaceplane mission backronym sorted
It's official: The El Reg Special Projects Bureau's audacious rocket-powered spaceplane project will henceforth be known as the "Low Orbit Helium Assisted Navigator", following our reader poll to nail the LOHAN backronym matter once and for all.
It just remains to be said that we're not accepting any whining about the word "orbit". It seems some of you strongly object to the inclusion of the term when the planned Vulture 2 aircraft won't actually be orbiting our beloved mother planet.
Well, our Paper Aircraft Released Into Space (PARIS) vehicle fell a bit short of actual space, but we reckon the spirit of the adventure is more important that the literal meaning of the name.
So, low orbit it is, with helium, and a navigator. Just how the Vulture 2 will guide itself back to terra firma remains to be seen. We're currently wading through your suggestions for aircraft designs, suitable rocket motors, launch platforms and electronic systems to see how the whole thing will work.
We'll have a round-up of that later this week, when we'll be presenting our first set of draft mission specs for your perusal. In the meantime, enjoy this hot-off-the-press LOHAN graphic, a bigger version of which is available by clicking on the pic: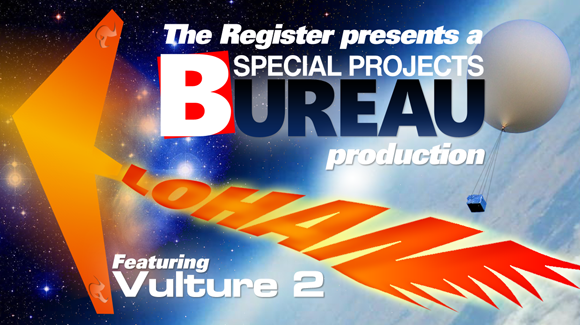 ®