Utah cops baffled in case of mysterious anonymous cuffee
'Well-spoken ... just doesn't want to be found'
Utah cops are attempting to identify a man who's unnecessarily spent over three weeks in jail on three minor misdemeanor charges because he refuses to reveal his name.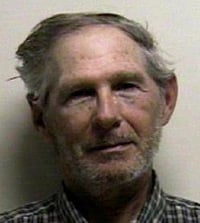 The 60-something, "fairly well spoken and educated" John Doe was cuffed on 1 July for "trespassing in a parking garage", Reuters explains. He could have secured bail by simply telling police who he is, but so far he's declined to do so.
The mystery perp has restricted himself to a few comments about how well he's being treated, and hasn't yet used a supplied phone card to call friends or relatives.
Lt. Dennis Harris of the Utah County Sheriff's Office explained: "He was very aware of what we were trying to do and he would not give us the slightest bit of information indicating where he was from or anything relating to his family situation."
Harris admitted: "This is really a strange case. He just doesn't want to be found.
"I've been trying to think from A to Z why he would want to stay here ... why he wouldn't give us any information. He either has to be wanted by some other state or he could be on some other registry or database that has not shown up."
He added: "I realize that sometimes people want to go to jail because they are homeless, have nothing, they are destitute. I've seen that over the years. I just don't get the impression that's the reason. He just doesn't want to be discovered by somebody."
Harris said he'd received plenty of calls relating to his anonymous guest, but they'd come to nothing. He did, though, suggest the matter might soon be resolved. In one conversation, John Doe did admit he'd need to secure his freedom to attend to unspecified business.
Harris concluded: "He said there was a point at some time that he would need to get out of jail. That's the closest I can find of what he wants to do. And that makes no sense to me whatsoever." ®