This article is more than 1 year old
HTC Salsa Android smartphone
Facebook fandango
Review HTC has released two 'Facebook phones' of late – the Qwerty-packing ChaCha and the Salsa, the latter being a compact bundle of fun, which wears its dedicated Facebook button just beneath its screen.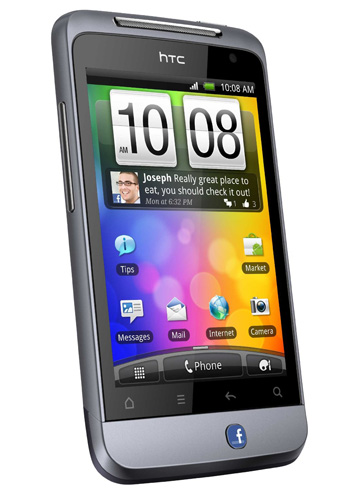 HTC's Salsa: spiced with Facebook favours
While the designers of the ChaCha had obviously looked over the shoulder of a BlackBerry owner or two, the Salsa's style keeps things in-house with a nod to the HTC Desire's odd little chin at the bottom of the phone, which seems to be getting less pronounced with each incarnation.
That and the bright blue Facebook button are the only distinctive features on the front, which otherwise only has the usual four touch-sensitive Android buttons nestling beneath the 3.4in touch screen, with a VGA front-facing camera and wide, thin loudspeaker above it.
It's comfortably pocket-sized at 109 x 59 x 12mm and 120g and makes efficient use of the sides with a slimline volume rocker, micro USB port and large camera shutter button. On the top are a power/sleep button and 3.5mm headphone jack. The nicely sensitive touch screen delivers 480 x 320-pixel resolution. Par for the course really, but sharp and vibrant with it.
The operating system is Android 2.3.3 Gingerbread which is very nearly the latest version (that would be 2.3.4) but despite the front-facing camera, there's no support for video calling.
The 800MHz processor might seem a little underpowered on paper for the job of dealing with the 2.1 version of Sense, which can be quite intense on the graphics. Yet, in practice, it coped with multi-tasking just fine. So you can have music playing while surfing the web and check your emails, though it can start to stutter if you push it much more than that.