This article is more than 1 year old
Apple MacBook Air 13in Core i5 laptop
Pricey, but nifty
Review The lightweight, streamlined design of the MacBook Air is undeniably attractive, and still leaves most of its ultraportable PC rivals looking like a chaotic collision metal and plastic. However, that sleek design has always come with something of a premium price – especially given the relatively modest specification of its processor and other components.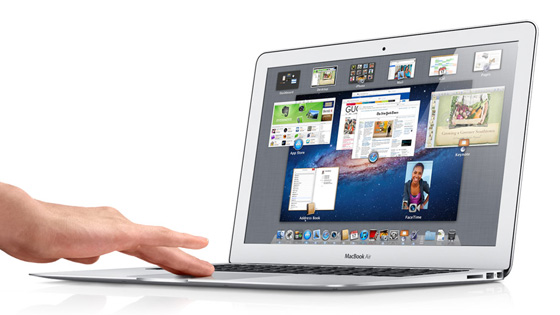 Quicksilver: Apple's MacBook Air
Unlike the new Mac mini, this latest Air update doesn't get any kind of price cut but it does at least get a very decent speed bump. Both the 11in and 13in models replace last year's Intel Core 2 Duo processor with the Intel Sandy Bridge Core i5 kit, and they use faster RAM too, stepping it up from 1066MHz to 1333MHz.
Prices start at £849 for the 11in model and £1099 for the 13in. The latter, features a 1.7GHz Core i5-2557M processor, 4GB RAM and 128GB SSD. For £1349 you get a 256GB SSD, which is the model on review here. If you want to splash out a further £100 you can have a 1.8GHz Core i7 CPU. Alas, if you want this Core i7 option, then you're forced to stump up the extra cash for the 256GB SSD drive.

The Thunderbolt peripheral storage port doubles as an external display connector
The basic design of the MacBook Air remains unchanged, but these new models do gain Apple's new Thunderbolt I/O port and a backlit keyboard. One minor detail that I noticed is that the 13in model has actually put on weight, increasing from last year's 1.32kg to 1.35kg. That extra 0.03kg is hardly going to compromise the Air's 'ultraportable' status, but I can't help wondering where it came from.