This article is more than 1 year old
Apple MacBook Air 13in Core i5 laptop
Pricey, but nifty
Successful port?
Also, given the price of the MacBook Air, I still think that Apple ought to include one of its external SuperDrive optical drives as a standard accessory, rather than charging £66 extra for it, but one can dream.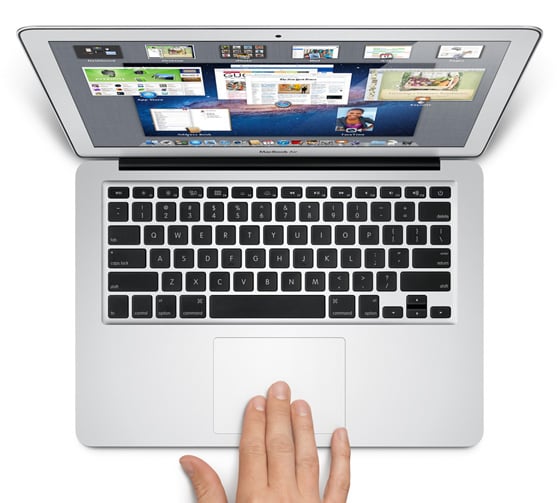 The Air features a multitouch trackpad and an illuminating keyboard
The long-standing criticism of the MacBook Air's lack of connectivity remains valid too. There's still no Ethernet or Firewire, and although Apple points to the versatility of the new Thunderbolt port, apart from monitors, there's bugger all out there to connect it to and I've hunted in vain for something like a USB 3 or Firewire adaptor that will work with Thunderbolt. That said, USB Ethernet adaptors are available.
Still, the bottom line with this new model is that it provides an undeniably solid performance improvement. It justifies Apple's claim to be twice as fast as last year's model when running native Mac software. And, for comparison's sake, I also used Apple's Boot Camp to instal Windows 7 in order to see how it fared against some of its PC rivals.
Benchmark Tests
PCMark Vantage Results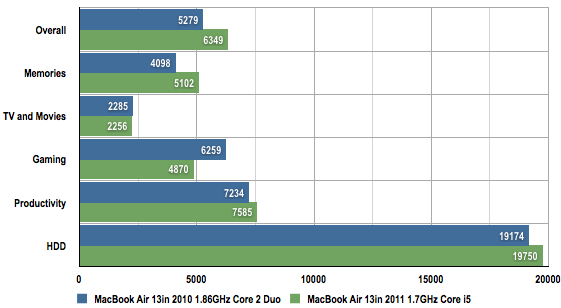 Longer bars are better
Using the PCMark Vantage benchmarking software produced a mix bag of results. A probable cause being Apple's use of Intel's 3000 HD graphics processor, which uses shared system memory. The previous 13in Air used an Nvidia GeForce GT 330M which has 256MB of RAM on-board.