This article is more than 1 year old
Apple MacBook Air 13in Core i5 laptop
Pricey, but nifty
Casual gamer
Intel's own web site describes the 3000 HD as having "casual mainstream gaming capabilities" – which translates as: not very fast. Its gaming score in PCMark Vantage was disappointing, and that also dragged down the overall final score as well.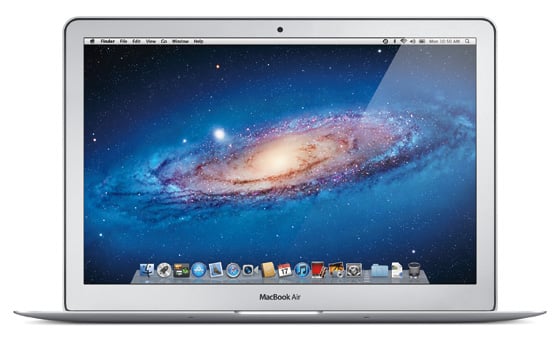 Purpose built
But while the MacBook Air is no gaming rig, the faster processor and memory provide more than adequate power for most day-to-day tasks. It certainly felt a lot faster and more responsive than last year's model, and had no trouble coping with all the graphical flim-flammery in the new Lion operating system.
Battery life was impressive too. Issuing out punishment by running the PCMark benchmarks continuously delivered a full 240 minutes from the MacBook Air, so you can certainly expect to get a good five hours out of it for less demanding tasks.
Verdict
Despite the hiccough in graphics performance, the new MacBook Air solidly outperforms last year's model and it no longer feels as though you're sacrificing performance in order to achieve that lightweight design. It's still pricey, of course, but the improved performance and ultraportable design is an undeniably attractive combination. ®
More Apple Mac Reviews

Apple
iMac 27in
Apple
MacBook Pro 15in
Apple
Mac OS X 10.7 Lion
Apple
MacBook Pro 13in
Apple
Mac Mini Server

Apple MacBook Air 13in Core i5 laptop
Iconic ultraportable finally gets performance to match its good looks.
Price:
£1099 (128GB SSD), £1349 (256GB SSD) RRP