Hot on the heels of its acquisition of digital-signature firm EchoSign last week, Adobe's Acrobat Solutions team popped another piece into its online-documents puzzle with an upgrade to its fledgling web-form creator, FormsCentral.
The online tool was launched on Valentine's Day – that's February 14 to you readers living in romance-free zones – with the goal of making the creation and management of forms and surveys so easy that even overpaid corner-office execs could do it.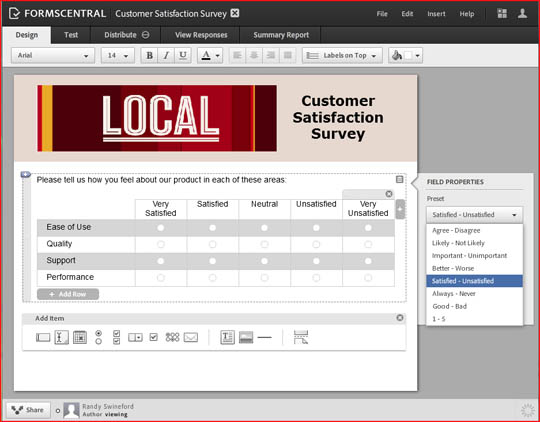 Canned survey headers are editable – you could change 'Very Satisfied' to 'Damp with Excitement' if you'd like (click to enlarge)
"We wanted to ... really simplify the way you could create, distribute, collect information, and analyze the results," Adobe marketeer Todd Gerber told The Reg when describing the purpose of FormsCentral.
Wednesday's update, Gerber told us, is not actually a 2.0 release, but instead – FormsCentral being an easily updateable online app – an "ongoing evolution" of the product.
It's just that some monthly refreshes are more evolutionary than others.
Watching a demo of the latest FormsCentral performed by Acrobat Solutions group product manager Randy Swineford, we found the simplicity of the online, Flash-based creation app to be both its most attractive feature and its biggest limitation.
Creating forms and surveys is, indeed, a walk in the park, but you're far more limited in what you can create than if you were, say, even mildly conversant in HTML. For example, a form with data fields to be filled in can have but one field per row, and survey forms are limited to radio buttons, so only one answer per question can be chosen.
That said, the simple forms that FormsCentral can slap together are quite serviceable and dead-simple to create and customize through an easily understandable interface. Accessing data entered into the forms and results of surveys is equally easy, as is modifying and exporting the data's tabular and graphic presentations.
And, of course, there's the added benefit that Adobe manages all the information entered into the forms and surveys. You can export it if you'd like, but the info-examination interface is handy enough that you might not want to.
Must every online app Tweet?
Speaking of exporting, one addition in Wednesday's "ongoing evolution" is the ability to Tweet your form's existence right from the app, with a link in the 140-character missive that will lead the reader to your creation.
Another helpful new export is the ability to simply dump the HTML that FormsCentral creates to build your forms and surveys into your own wesite – and when you do, the data collected is still managed by Adobe's servers.
Also new are customizable rating scales as shown in the screenshot above, and a simple but effective conditional jump capability that allows you to move a respondent to the appropriate survey page depending upon how he or she answers a question.
All in all, the latest incarnation of FormsCentral appears to do just what it says it will do: create simple forms with a few customizeable niceties that you can use in your business without having to bug the IT department, or – if you don't have an IT department – to use on your own with a minimum of hassle.
Pricing is straightforward. For the princely sum of absolutely nothing, you can take FormsCentral for a spin and create one form and accept up to 50 responses. For $14.99 per month you get five forms and can collect 500 responses per form, and $199 gets you an unlimited number of forms and 5,000 repondents per form.
Considering that the $14.99 per month deal adds up to $179.88 per year, if you're a regular user the upgrade to the yearly plan is about as much of a no-brainer as creating simple forms and surveys with FormsCentral.
We haven't yet taken FormsCentral for a full-scale whirl, so we can't speak to its reliability or performance, but even for IT pros it appears to be worth investigating – if only to get that pesky corner-office exec out of your hair. ®
Sponsored: Ransomware has gone nuclear