ITV says it will introduce micropayments for some web shows viewed through ITV Player, with January 2012 the most likely launch date. The idea is to show specials, or (pardon the jargon) "webisodes" of popular programmes such as Coronation Street.
You can see why ITV would want to, with advertising sure to continue a long-term decline. But "micropayments"? Have we fallen through a wormhole in time back to 1995?
Micropayments have never taken off for several good reasons – and some bad ones, which unfortunately are a fact of life. Pay-per-view is tedious for the punter and costly for the producer or distributor. The credit card racket ensures that fewer transactions are better. It's far more convenient for both parties to have a common payment platform that sends the punter a bill at the end of the month, like Sky, Virgin or your local newsagent do. People tend to spend more on content this way, too. Ask Apple.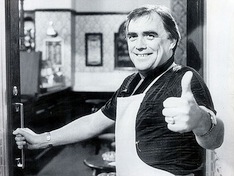 A young John Prescott appears in Coronation Street
This is probably where the internet is at its most broken and immature – but it's really up to the respective producer industries to sort it out themselves.
Computers are good at one thing: totting things up quickly, so we could be being "billed" for stuff as it flies around the network – as long as we could rely on not getting a nasty bill at the end of the month. Those producers who don't sort out easier ways of getting us to pay, will find Amazon and Apple have a very nice payment platform waiting for them ... with massive markups.
ITV also revealed healthy figures today. Pronounced to be terminally ill several times over the past few years, the channel is still some way from death's door. ITV profits after-tax rose from £71m in Q1 to £135m, with revenues over £1bn, allowing it to pay out its first dividend in five years. The growth came from flogging own-grown productions for foreign markets, such as a US version of Prime Suspect.
ITV's CEO is Adam Crozier, the former Saatchi & Saatchi boss notable for his stints at the Football Association and the Royal Mail. At the latter he turned around large losses into significant profits, before they turned into large losses again. ®