Quantum has a new mid-range DXi deduplicating disk backup box that crushes speed king Data Domain.
Quantum has four product groups in its DXi range: the 4500 entry-level for small and medium business and remote office/branch office (ROBO) needs; the 6500 mid-range; the 7500 enterprise; and the high-end 8500. The mid-range also included a 6700 which dedupes at 3.5TB/hour and has 24-56TB of usable capacity. This has been replaced with the 6701 (1GbitE) and 6702 (10GbitE)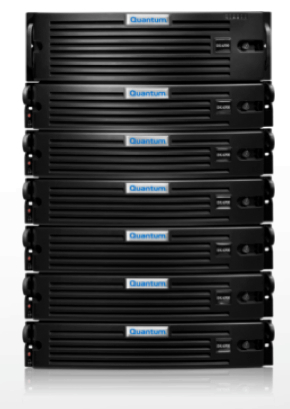 Quantum 6700
Latterly Quantum has been emphasising its deduplication speed with its DXi v2.0 software.
Dedupe performance
For example, it says "the DXi4500 deduplicates faster than any other entry-level open protocol appliance – up to 1.4TB/hour for NAS and 1.7TB/hour for Symantec OpenStorage(OST)." The DXi6500 is faster than any other mid-range open protocol appliance, processing in comping data at up to 4.3TB/hour for NAS and 4.6TB/hour for OST. The "open protocol" phrase means NAS, VTL and OST interfaces are included.
OST or Open Storage Technology is a Symantec API for NetBackup and BackupExec to interface to storage hardware devices.
That was last month; now we have the 6701 and 6702 which go even faster, probably due to a processor upgrade. The 6702 handles 5.8TB/hour (1.61GB/sec) in virtual tape library (VTL) mode and with OST, and 5TB/hour (1.389GB/sec) in NAS mode. Quantum says this is twice the performance of its leading competitor, which means Data Domain.
There are three classes of Data Domain product: the 140 for ROBOs; the 600 mid-range enterprise models; and the top-end DXi 800. Quantum is comparing its DXi 67xx against the 600s. Specifically, the 610 does 1.3TB/hour with Boost, the 630 2.1TB/hour, and the 670 5.4TB/hour. Without Boost the numbers are 0.675TB/hour, 1.1TB/hour, and 3.6TB/hour respectively.
Boost is software that runs on a NetBackup or Backup Exec media server which pre-processes backup data and strips out some duplicated segments before sending it to the target Data Domain box.
A Quantum briefing deck says this of the 6702 performance: "No gimmicks – real performance. [It's] target-based performance, works with any backup software, no extras needed" – or, who needs Boost?
It looks as if Quantum is positioning the 6702 against Data Domain's 630, although it goes faster than the un-Boosted 670.
The 6700 scales from 8 to 80TB of usable RAID 6 capacity, as does the now upgraded 6500. Data contents can be replicated to another DXi appliance for disaster recovery purposes.
Hybrid mode
The 6700 has a Hybrid mode of operation, called DXi Accent, with the deduplication processing shared between the data-sending media server system and the 6700. Stage one dedupe on the media server ensures only unique data is sent to the target DXi product. This is equivalent to Data Domain's Boost and, like it, speeds overall dedupe processing, and reduces the network traffic between the media server and the target dedupe appliance.
The media server segments backup data stream blocks, generates signatures for each segment and checks these against an index on the target DXi system. Segments with an index match are discarded. Unique segments are compressed and sent over the wire. Without Accent, this work is done by the target DXi appliance.
Quantum has not provided any performance data for DXi Accent, although it stands to reason that any DXi target system will dedupe faster when combined with DXi Accent on a source media server. DXi Accent supports NetBackup media servers using the OST API. Quantum said it intends to extend support to other applications in the future.
DXi Accent is enabled on a media server by server basis. Quantum says it is the only such software which supports a direct path to tape, meaning that Data Domain Boost does not.
With Quantum having existing 4500, 7500, and 8500 DXI products – and having just augmented the 6500/6700 models with the 6701 and 6702 – it looks as if we have started a refresh cycle for the overall DXi range, with 4700, 7700 and 8700 models possibly coming down the pike. We might think the 6500 is not long for this world, but Quantum is not even hinting that this is the case...
The DXi6701 has a manufacturer's suggested retail price of $58,000. ®