So you don't want an iPad, but you are keen on taking hold of a tablet. Which one are you going to go for? If a survey of fondleslab-fond shoppers is anything to go by, it'll be an Amazon job.
US price comparison site Retrevo asked a thousand website browsers about their tablet buying plans. Beyond Apple, Amazon was the clear winner, with 55 per cent saying that's one of the brands they will "seriously consider" buying a tablet from.
And the things haven't even been announced yet.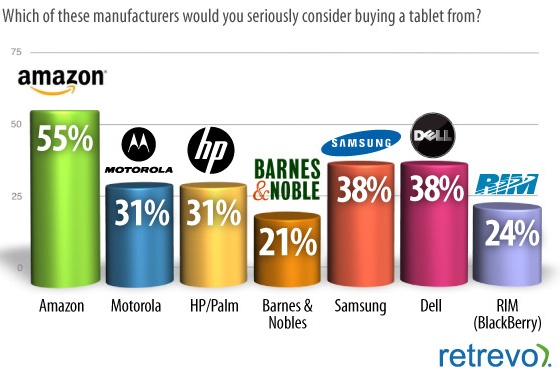 Samsung and Dell followed, both winning 38 per cent of respondents' potential purchase favour. Motorola and HP came next, both with 31 per cent. RIM's PlayBook would be considered by 24 per cent of respondents.
The scores add up to more than 100 per cent because punters could pick any number of suppliers.
But all of those vendors will have a job competing with Apple - unless they undercut the iPad massively.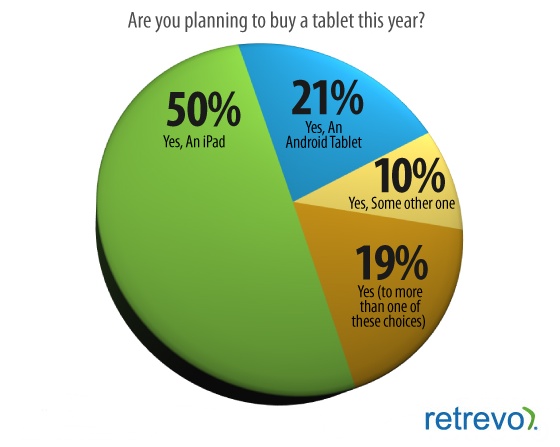 Asked if they would consider an Android tablet with similar features over a basic, $499/£399 iPad, 79 per cent of them said yes - but only if it cost less than $250 (£152).
Some 48 per cent of punters surveyed said low price was a tablet's most important feature, while 28 per cent have their eye on a high-resolution display.
Half of respondents said they plan to buy an iPad, while 21 per cent will go for an Android and ten per cent will opt for some other kind. That leaves 19 per cent as 'don't knows' to play for. ®
Similar topics