The deputy director of Russia's space agency, Roscosmos, says that the International Space Station will be knocked out of orbit and dumped into the sea after its mission is completed in 2020.
"We will be forced to sink the ISS. We cannot leave it in orbit as it is a very complicated and a heavy object," Vitaly Davydov said a television interview transcribed on the agency website (Google Translate), as reported by the Russian news agency RAI Novosti.
"Right now we've agreed with our partners that the station will be used until approximately 2020," he told his interviewers.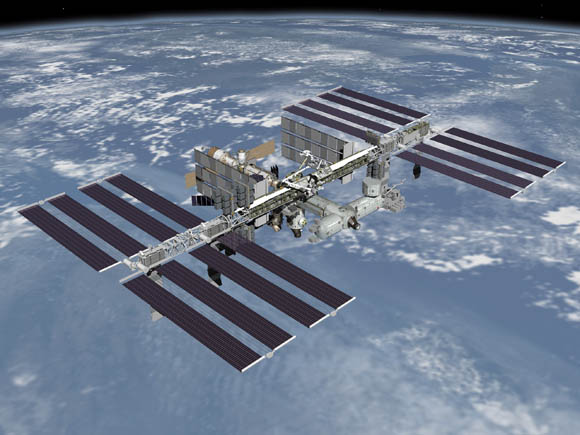 Doomed? Of course – but when?
In the states, Fox News reported that "knowledgeable government sources and NASA spokesmen were aghast" at Davydov's suggestion that the ISS would meet the same fate as Russia's Mir space station, which was de-orbited and sent into the sea near Christmas Island in 2000.
"This isn't the first time I've seen Russia come out with a statement that seems to be coming out of their own stovepipes," a congressional rep told Fox. "I would give it no credence at all."
Although Davydov told his interlocutors that 2020 would be the end of the ISS's mission, NASA and others – ISS partners also include Canada, the European Space Agency (ESA), and Japan – may see a longer life for the multibillion-dollar effort.
"The partnership is currently working to certify on-orbit elements through 2028," NASA spokesman Joshua Buck told Fox.
From where we sit, it appears that Davydov's comments were simply about the eventual fate of the ISS, and an expression of concern that if it were left in orbit after its mission was concluded – which will, of course, some day come to pass – it would become a dangerous chunk of space junk.
The shocker in Davydov's interview was merely the date 2020. As one congressional source told Fox: "I have no idea where they came out with that date. NASA would have advised us ahead of time if there were any agreement along those lines."
Interestingly, Davydov's comments come one day after the ISS partners met to discuss future uses for the space station, and a day before NASA will hold a press conference to discuss the next ISS component, the Zvezda living quarters – supplied by Russia.
Perhaps Davydov was intentionally tweaking NASA after its recent retirement of the last space shuttle, Perhaps he was merely ruminating about the dangers of space junk and the ISS's eventual fate, date uncertain.
Or perhaps US space-program watchers should be more concerned about one other comment Davydov made. When discussing the transport of crew members to and from the ISS, he said: "мы стали монополистами." That is, "We have become a monopoly. ®
Bootnote
Russia's monopoly may not be broken by another governement space agency – at least for cargo shipments. NASA and SpaceX "technically have agreed" to combine that private company's remaining two missions to demonstrate that its Dragon capsule can be used to ferry goods to the ISS. The Dragon capsule is scheduled to launch aboard SpaceX's Falcon 9 on November 30, and dock with the ISS on December 7.