This article is more than 1 year old
Call of Juarez: The Cartel
Drugs, thugs and automobiles
Making the connection
The game improves slightly in its latter half. Locations are more polished and visuals noticeably improved, especially in the gunfights at a LA rooftop club and later through the cartel's Mexican hacienda stronghold. Here, confined spaces and improved cover and verticality mask the underwhelming AI to good effect, but the myriad technical cracks aren't so easily disguised.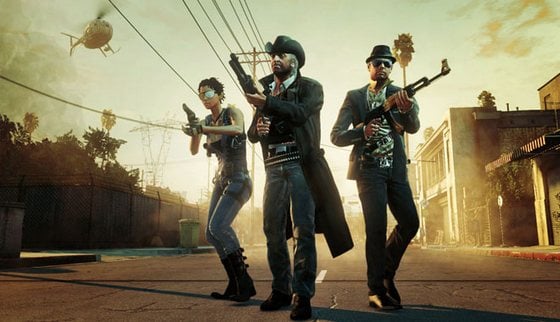 Mosey into suburbia
Subtitles rarely match the dialogue and are often misspelled. Conversations fall out of sync, with NPCs answering questions before you've posed them, or looping one-line responses each time you pass by. Your AI team-mates continually disappear in front of you only to reappear magically one-hundred yards ahead. And clipping is a constant issue, with dead enemies melding into table tops or car bonnets. Then there's enemy animations themselves, which aren't so much ragdoll physics but ragcloth, as single bullets kill outright and dead bodies flop weightlessly to the floor.
The Cartel's on-line offering proves equally weightless when compared to the dominant FPS games. Despite introducing competitive objectives – such as racking up headshots the fastest – the three-player on-line campaign co-op is best avoided altogether, as company serves only to magnify the already mindless gameplay and overwhelming repetition. Multiplayer, on the other hand, is passable. But with just four small maps and two modes, it's an extremely lightweight affair.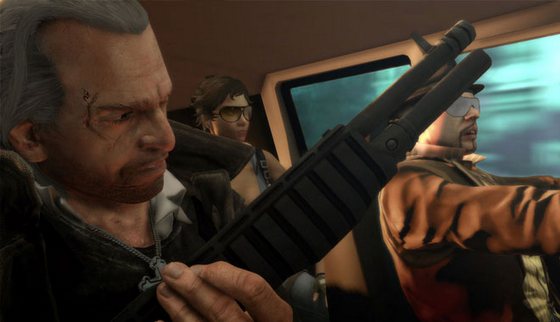 Cock and load
In addition to straight-up Team Deathmatch, there's a Missions mode, in which the criminal team has to, for example, plant Semtex to blow up a safe or steal drugs from a crack house, while the cops work to foil them. It's shallow and limited, but it's not entirely brainless. The mode takes a novel approach to promoting team play, which would benefit many Triple-A shooters. Team-mates receive a bonus of extra health and damage when sticking close together. And you can choose to partner with someone else, which not only allows you to tag enemies to reveal their location to your partner, but also earns you additional xp for faster weapon and perk upgrading.
Verdict
The glimpses of innovation in multiplayer in no way compensate for what is a unremarkable, derivative and poorly executed game. In high-tailing it out of the Wild West, The Cartel might have cleverly avoided a showdown with Red Dead Redemption, but in shifting to modern times, it's walked blindly into a quickdraw against the very best FPS gunslingers. ®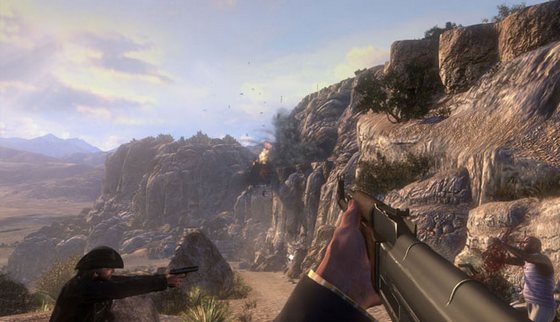 Scenic shots
More Games Reviews

Transformers:
Dark of the Moon
Shadows of
the Damned
FEAR 3
Dungeon
Siege 3
Child of Eden

Call of Juarez: The Cartel
A poor, uninspired shooter that only just manages to out-gun The Duke. Available on Xbox 360 (tested), PS3 and PC (out September).