HP's fondle-slab dilemma: What to do when you're No 2
The TouchPad is good – but is being better good enough?
Analysis After just one year, the iPad is making more revenue than Apple's 30-year-old personal computer division. It's almost bringing in as much as Dell brings in from PCs. This is a huge business, already. And nobody can quite say what their iPad is good for. If ever a computer was a means to an end, then the iPad is it – rather than doing anything uniquely iPad-ish, it takes lots of "ends" a laptop (or Kindle, or smartphone) gets you to, and just gets you there slightly more conveniently. PCs are going to be around a long time; the iPad will be right there alongside them.
I've had a long weekend with HP's rival, which is probably the best of the challengers. Our Reg Hardware review hits several nails firmly on the head – I won't repeat too much of it below.
But what a dilemma the iPad poses for its rivals.
History tells us that commodity-priced rivals will take an increasing share of a consumer electronics market, as the market grows bigger. It happened remarkably quickly with Android and the iPhone. But right now, selling a rival tablet is extremely hard work. It's not "a tablet market", it's still "an iPad market", and punters are choosing which iPad to get (3G or not 3G?), and not which "tablet" to get. And for a lower price rival things are especially difficult – note how HP's Bill of Materials costs are higher than Apple's, thanks to the large volumes Jobs and Co command.
Which is all jolly unfair on HP, which made a very smart purchase with WebOS and has evidently thought hard about making its tablet an attractive buy.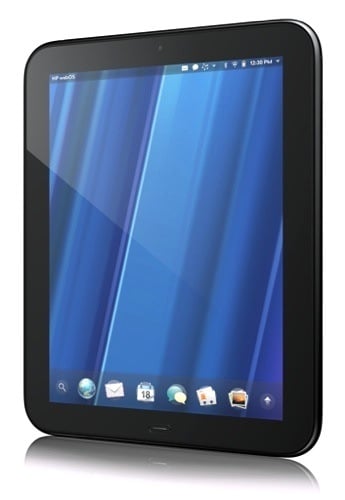 Touchy
I noticed several nice things about the TouchPad, some non-obvious, all quite thoughtful. Notifications are well done. It collects mail while asleep – using very little power. I didn't ask it to. Setting up calendars and email out of the box is nice and straightforward. You get to Yahoo! mail without being a Yahoo! subscriber. Email has a much nicer UI than the iPad. The TouchPad makes Skype setup trivially easily, and backing up your stuff onto HP's backup service is a couple of clicks. It prints, too – supporting many printers out of the box. The TouchPad's stereo speakers lord it over the iPad's weak, poorly placed mono speaker. Bing Maps with its Bird's Eye View is much more useful than Google Maps – it could be even better if Ordnance Survey maps were licensed and integrated too, and Microsoft's version of Google Kerb Crawler [I think you mean Street View – Ed] (when it's ready).
And it's very nice to have a four-row keyboard, one that can change sizes very easily. So you can see from that list it's a quality product.
Set against that, there's a creaking wait while many new apps are opened – in some cases 10 seconds, which really shouldn't happen. Some gestures that are natural on a smartphone-sized gadget are cumbersome on a 9.7-inch one, particularly the full-screen vertical drag. There's rather too long spent faffing about with accounts before you get up and running. And while the browser is no less functional than Safari on the iPad, the text rendering is ... well, you have a look:

The browser text rendering is a bit Linux c.1999
But what really struck home is how much of the value an iPad gives you comes from the third-party apps, and third-party hardware: from the (swearbox) open "ecosystem". It's that means to an end aspect: the iPad is just another way of playing music, reading web or books, watching TV. If you can't do that, then it's a problem. One example of iPad value is AirPlay. I use AirPlay a lot, I think it's terrific, and the protocol is gradually being built into hi-fi. It's not for audiophiles, and the latencies compare unfavourably with other broadcast audio systems. (The lag of a couple of seconds from one of the iPad guitar apps is quite a surreal experience.) But it's there, requires minimal setup, and it works.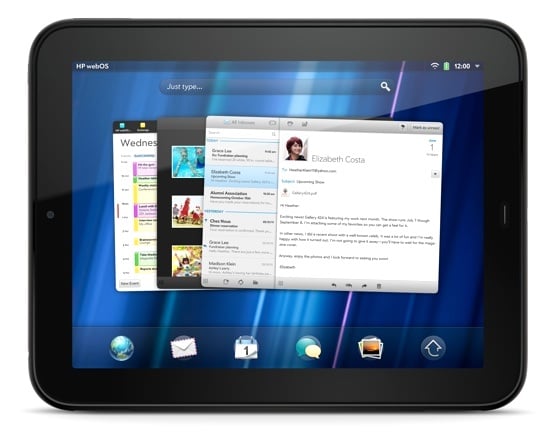 WebOS
Less than a year ago I reported how people were fretting that AirPlay locked people into Apple's walled garden – but that doesn't seem to be the case. Once you have AirPlay speakers available on your LAN – and any old speakers will do – you can use them for other audio apps too. AirPlay doesn't pipe music from your web browser to the speakers, but generally, it's heading in the right direction.
To enhance your device with this kind of infrastructure relies on other people – and the spoils fall to a first-mover. To make the TouchPad a contender, it needs these kinds of deals. HP should hire a legendary schmoozer to make them happen.
As for third-party apps, they're not really there yet – and the UK version of the HP App Catalog had a strong US feel, and had too many categories. Spotify is available on WebOS - but it isn't in the app store. These apps should be up front. Maybe Spotify should be bundled, in a formal business arrangement?
HP has little option but to stick at it – making each part of WebOS that much better than the Apple version. But it also needs to enhance the whole proposition by getting people to stuff quicker and easier. This is a bit bleeding obvious: nobody in the high margin part of the tablet business really has any other choice. The received wisdom predicts that the tablet market will be carved up, but it may be the case that we'll see cheap Chinese Android (or generic Linux) tablets take the lion's share of volume – and only one company, by now so established it controls the infrastructure, with the lion's share of the profits. ®