This article is more than 1 year old
Jupiter spacecraft mounted atop bloody big rocket
Juno to ride the thrust of five mighty strap-ons
NASA's Juno spacecraft has been mated to an United Launch Alliance Atlas V 551 rocket ahead of its forthcoming trip to Jupiter.
The "most powerful Atlas rocket ever made" is sitting on the launchpad at Cape Canaveral Air Force Station while technicians carry out "a final flurry of checks and tests" to see if all is well for a first launch opportunity on 5 August.
Juno principal investigator Scott Bolton declared: "We're about to start our journey to Jupiter to unlock the secrets of the early solar system. After eight years of development, the spacecraft is ready for its important mission."
Juno will arrive at Jupiter in July 2016 and orbit the gas giant's poles 33 times. It's solar powered, and since it'll be operating at a considerable distance from the Sun, requires plenty of solar panel area to catch some rays.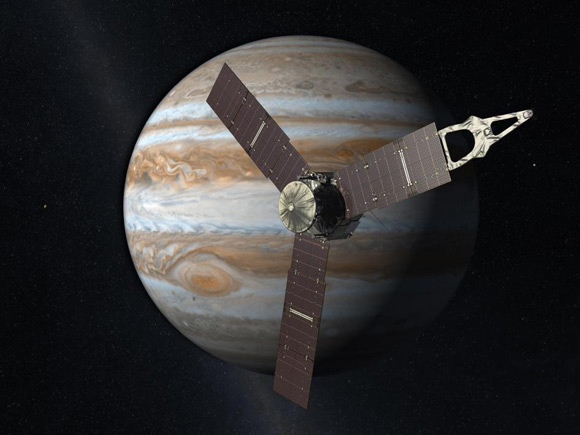 NASA explains: "Three solar panels extend outward from Juno's hexagonal body, giving the overall spacecraft a span of more than 66 feet (20 metres). The solar panels will remain in sunlight continuously from launch through end of mission, except for a few minutes during the Earth flyby. Before launch, the solar panels will be folded into four-hinged segments so that the spacecraft can fit into the launch vehicle."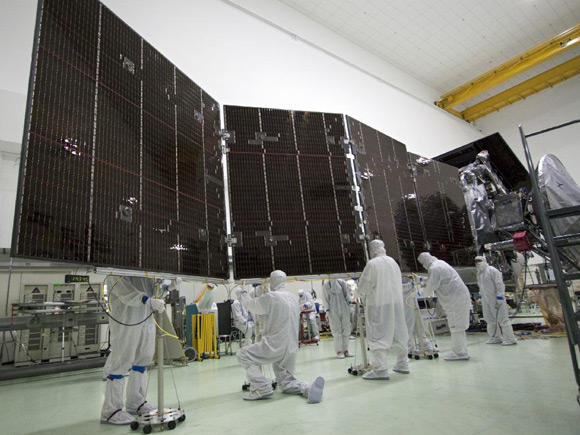 The panels will power an array of kit which includes a six-wavelength microwave radiometer, plasma and energetic particle detectors, and ultraviolet and infrared imager/spectrometers. Juno is also carrying a colour camera, promising Earthlings "the first detailed glimpse of Jupiter's poles".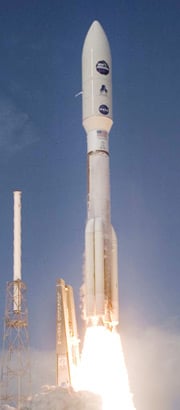 Before that, however, Juno has to slip the surly bonds of Earth. The Atlas V 551 entrusted with the job will be lifted from the pad by a standard dual chamber RD-180 motor burning kerosene and liquid oxygen.
In this case, the RD-180 will be assisted by five solid rocket boosters, and the task of getting Juno into its final trajectory will fall to a Centaur upper rocket stage powered by hydrogen and liquid oxygen.
This configuration is reflected in the designation "551" (5-metre diameter payload fairing + five boosters + one Centaur). There's more on the myriad possible configurations of the Atlas V in United Launch Alliance's handy guide (pdf).
A similar 551 set-up lifted NASA's New Horizons mission to Pluto back in 2006 (see pic). Lockheed Martin has more here.
As we recently reported, NASA is eyeing the Atlas V as a possible vehicle for getting people into low-Earth orbit as part of its Commercial Crew Program. The agency is keen to offload International Space Station taxi duties to the private sector, while it concentrates on more distant horizons for manned space exploration. ®