If sales revenue had been just 3 per cent higher, Quantum would have broken even. Instead its first fiscal 2012 quarter showed a $5m loss on revenues of $154m – instead of the expected $160m.
Those revenues were 6 per cent down on the year-ago quarter. Then revenues were higher because $9.5m came in from an OEM selling Quantum's DXi deduplication product. That arrangement stopped and so 6 per cent of the year ago quarter's results disappeared, and Quantum needed to make that up. It nearly did but failed to close a sufficiency of deals at the end of the quarter.
CEO Jon Gacek said in the earnings call : "We just delivered a quarter that was $6.5m shy in a growth business that should have grown 50 per cent and grew 15 per cent."
Overall: "We are not pleased with our overall revenue result for the quarter and specifically the fact that disk systems and software sales did not meet our growth expectations; however, our branded business grew 3 per cent and we delivered another strong quarter for tape automation."
This was just not enough to make up for the missing OEM contribution. Coincidentally Quantum announced a new SVP for worldwide sales, Ted Stinson, in mid-June, a couple of weeks before the quarter's end of 30 June. At the time of this hiring, Quantum CEO Jon Gacek said he wanted to improve overall sales productivity, and the Q1 results show what he means.
"We just delivered a quarter that was $6.5m shy in a growth business that should have grown 50 per cent and grew 15 per cent."
Quantum has also bought Pancetera to improve its ability to back up virtualised servers, scored a reselling deal for StorNext file management software with NetApp, and introduced a StorNext appliance. It has just announced Data Domain-beating DXi 6700 deduplication appliances.
Pancetera has an OEM deal that should bring in revenue and Quantum should launch a new Pancetera product this quarter. Altogether Stinson has a stronger hand to play than his predecessor.
Gacek said: "We are very focused on growing revenue, and we still intend to do so. This start puts us a little behind for the year, but we plan to make it up ... as the drivers for revenue growth are there. To do so, it's clear we need to continue improving our sales and go-to-market execution, including our overall product and overall solution positioning."
DXi dedupe sales and marketing
Concerning DXI revenues, Gacek was crystal clear about missing a target: "While branded DXi, including related maintenance, grew 15 per cent over the same quarter last year, we only achieved approximately 70 per cent of our DXi revenue plan for the quarter."
Gacek himself was surprised by the results: "We actually got some pretty good start[s] last quarter, to be candid. We just didn't close well. And I didn't expect this to be the result with a week to go in the quarter. I felt we'd be over $160m. So we just didn't get stuff done."
He drilled down into this: "We made progress in closing DXi8500 deals, resulting in DXi8500 revenue increasing over 80 per cent sequentially. This was a significant improvement from the past two quarters, but we still fell short of our goal. Our DXi8500 product is very competitive and well-positioned, but we still need to do a better job of closing deals that we are working. What was more significant this quarter, however, was that we had a sequential decline in our mid-range DXi6000 family revenue."
This makes yesterday's 6700 announcement all the more important.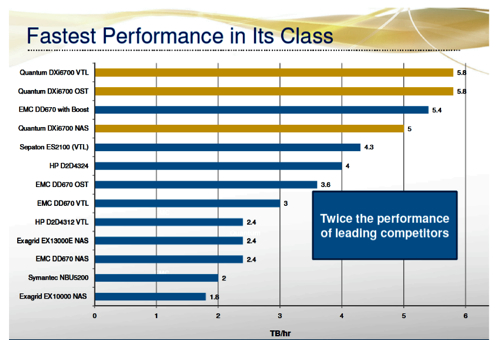 Quantum DXi6702 performance comparisons
We should note that the DXi v2.0 software helping to make the 6700 go so fast has not yet been ported to the 8500. When it is, and it could be in the September quarter, Quantum's fiscal Q3, that product's dedupe speed should accelerate as well.