Ten... in-ear headphones
Aural fixation
Product round-up It's time for another headphone roundup and considering we've already covered the bulkier over-ear and on-ear models, it was inevitable that in-ears would follow. After all, not everyone likes walking the streets, turning heads with a pair of oversized Mickey Mousers on.
The market is inundated with hundreds of in-ear monitors (IEMs) to choose from ranging from near-giveaway throwaways to audiophile grade headsets at eye-watering prices. We reached out for a broad range and, from what we received, narrowed it down to the following ten.
Unless you have hearing like Superman, the difference between many of these high-end sets is minor – some have more bass oomph, some have a flatter response – however, all significantly improve the listening experience beyond free buds that come with a new MP3 player and if you haven't upgraded from such, what are you waiting for?
Audio-Technica ATH-CKS90

The ATH-CKS90 have an agreeable fit with no need to fiddle around – in they go and in they stay. This is a credit to the design because even with the smallest of the four silicone tips fitted, the CKS90s remained as snug as a bud in a lug. The tips can also sit at two different places on the end post to accommodate for those with deeper caves.
The drivers feature a dual-resonance chamber that's mimicks the bass-reflex designs on speaker cabinets. The upshot is a deep bass sound, which makes listening to gritty dubstep and raw hiphop an absolute pleasure. As these headphones are all about chambers, I thought a dose of Wu Tang would be fitting and wasn't wrong – the bass reproduction was impressive delivering an all-encompassing presence.
Noise isolation was also good and volumes can be upped deafeningly high if need be. There were no problems with continuous use either no fatigue both in terms of comfort or from listening. The only drawback to the ATH-CKS90s is a fairly frail cable susceptible to knotting and rub-noise. Other than that, I can't fault them much at all and if you're a basshead, the ATH-CKS90s are a worthy consideration. Shop around and you can pick up a pair for less than £70 - bargain!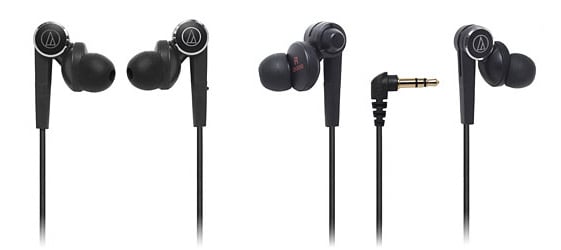 Brainwavz B2

I admit when scanning for headphones to review, Brainwavs was a company I'd never heard of. Its audio products have been gaining respect for a while though and with commendable spec and a fair price, definitely worth a closer look listen.
The B2s have a stand-out personality. As you can see from the picture, they're far from subtle in design with a twisted-pair colour cable giving a flamboyant zebra-skin feel that should appeal to every man's inner pimp. The style of cabling makes it less susceptible to knots too and when it does tangle, it's easy to fix.
While the B2s sit best with the cable wrapped over the ears – audiophile style – they can be rather fiddly to get right. Once in though, they're firmly in place and cause no discomfort with a reasonable level of noise isolation. Featuring dual-balanced armature drivers, design to help separate the frequency range, sound is well balanced and spatial with a prominent mid-range, perfectly suited to vocals. They worked best with rock music in my opinion, or busy sounds with a lot going on, such as orchestral and jazz.
The buds come with three sizes of silicone tips as well as one pair of Comply foam buds, plus a standard carry case and a couple of adaptors. The B2s appear durable and well-priced given their overall quality.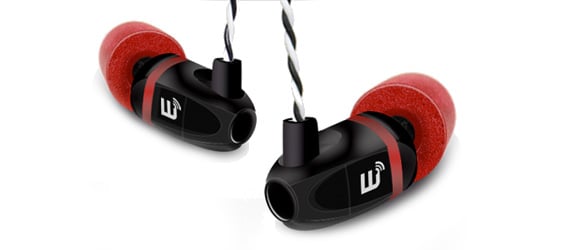 Reg Rating 85%
Price £100
More info Brainwavs