Ten... in-ear headphones
Aural fixation
ThinkSound TS02

Listening to music is all about improving the environment around you, so here's a pair of buds that really epitomise that. Say hello to the environmentally-friendly ThinkSound TS02s. These green warriors come with certified recycled corrugated cardboard packaging, along with carved wooden housing that claims "crisp accurate music reproduction" and "unparalleled acoustics".
I thought I'd better create the right setting for testing, so stuck on some Enya, lit a josstick and put myself in the lotus position. Well, not exactly. The TS02s fit snugly and trouble-free, coming with four ear-tips and a cotton carry pouch. There's also a flimsy tangle-prone cable, PVC-free of course, that creates a fair amount of noise when rubbed.
As expected, the audio matches the headphones' earthy personality, but remains one of the more undesirable outputs in this roundup. The 8mm drivers deliver a warm and smooth low-end that almost swallows up its higher frequency relatives and with them, the crispness required to justify the company's claims.
Still, the TS02s aren't a terrible pair of headphones, after all, they still made the cut. It's refreshing to see someone thinking eco when it comes to packaging too, Captain Planet would be proud.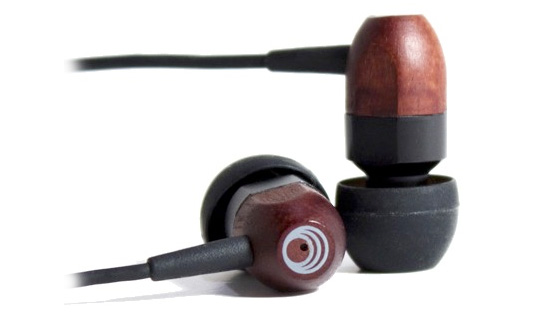 V-Moda Remix

I've had a pair of the V-Moda Remix sat in my desk for a good six months now, usually used when I've left my trusty pair of BeyerDynamic over-ears at the studio. They've been very reliable and do the job well but until recently, didn't have an opportunity to be pitted against competitors. I'm glad to say they keep with the pack rather well.
The Remix sit snugly in the ears and come with a few extra silicone tips, as well as ear-hooks, for joggers and exercise nuts. They can be a frustrating fiddle to attach, though. The body – made from shiny aluminium – gives the Remix a weighty hubcap look, but they're surprisingly much lighter than expected and fail to hurt the ears after continuous use. There's also a Kevlar reinforced cable, which tangles easily. At least it'll withstand an Uzi attack, though.
Speaking of sub-machine guns, the V-Moda is all about the 9mm, with its dynamic drivers at least. They generate a sound which, for the price, is certainly commendable. They're bass-heavy though and if you were looking for a balanced output, you'll be disappointed. The top-end frequencies can be rather ear-piercing too, when volume is cranked up. However, if you enjoy heavy dance music or booming hiphop, the V-Moda Remix are an inexpensive option worth considering.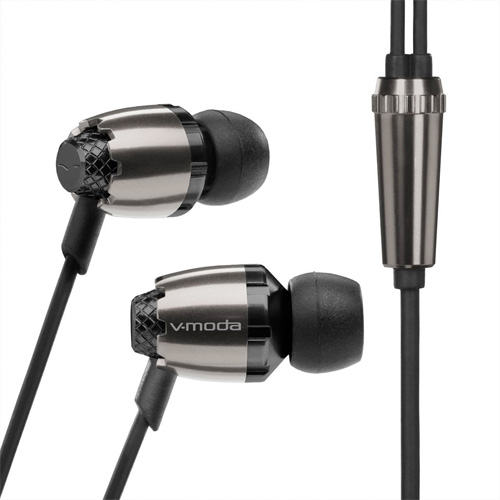 Reg Rating 80%
Price £35
More info V-Moda