A new smartphone application helpfully plots murders, and traffic fatalities, on an interactive map of the local area, showing you at a glance how many people died nearby in the last 18 months, and what killed them.
The application is actually a demonstration of instant-app-factory MobileNationHQ, which reckons it took only eight hours to create. The data is scraped from Police UK and Citizens Report, but goths around the world will no doubt be reaching for their smartphones so they can hang out at coolest accident blackspots.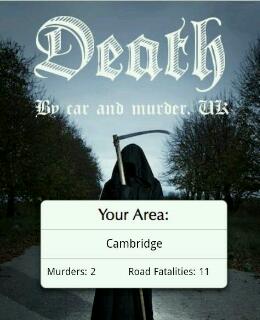 MobileNationHQ is more interested in showing off what a web-based application can do, and it is impressive, though such apps still lack the most important feature of any app store: the ability to charge users for content.
Which in turn means that the Death app is free, and worth seeing if you feel the need to boost your paranoia level on the way home. ®