This article is more than 1 year old
Google TV box flop costs Logitech $34m
Ouch: More Revues returned than sold
Analysis Poor sales of Logitech's Google TV box Revue have hit the company in the wallet. More Revues were returned by dealers than sold, and Logitech is slashing the price from the original $299 to $99 and taking a $34m one-time charge in Q1. Chairman Guerrino De Luca returns as interim CEO, with Gerald Quindlen stepping down.
Google TV's concept delivered web content and on-demand video content over broadband. Logitech's Revue was the first to launch in October. But it ran into practical difficulties: there's very little worthwhile content, and users found it difficult and complicated to set up – and buggy to use.
By December, Logitech was denying reports that it had suspended production of the Revue, tooting that, "We at Logitech are enthusiastic about Google TV and our role in bringing this new platform to US consumers."
TV manufacturers have a similar vision, but with walled gardens, and YouView is attempting to find a middle ground. Apple TV is really just a DRM dongle for a video delivery service.
TV equipment is a significant market, but the gear is bought to make TV better – there are plenty of other ways of getting to the web than via a TV. And crucially, there are much simpler ways of getting web onto the TV, or using web infrastructure: I wrote about a nice one here.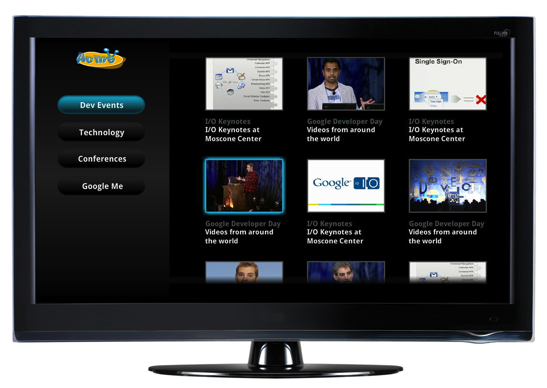 Google TV: absolutely the place to go for Google keynotes
Many manufacturers have signed up to Hollywood's DECE initiative, better known as UltraViolet™ which essentially sells you a transferable licence. Samsung, Sony, Fujitsu and BSkyB are signed up. Tesco, another member, thinks it is how most people will watch movies.
Logitech won't be able to join Apple's party, but the UV door is still open. And Google may need to think hard about what it must do next. The company regards new platforms – TVs and phones – as simply another blank canvas for Google's core advertising business. That determination ensures it will be a marginal player. Households spend large amounts on entertainment (games console subscriptions, pay TV) and advertising barely comes into it.
Wrong company, wrong place, wrong time? ®