Canon EOS 600D 18Mp DSLR
Choices, choices...
---
Review Those looking for a new DSLR haven't had a decision this tricky in years. In one corner, Nikon's D5100 and in the other, Canon's EOS 600D. Both offer similar specifications, and neither is exactly lacking when it comes to both image quality and platform support.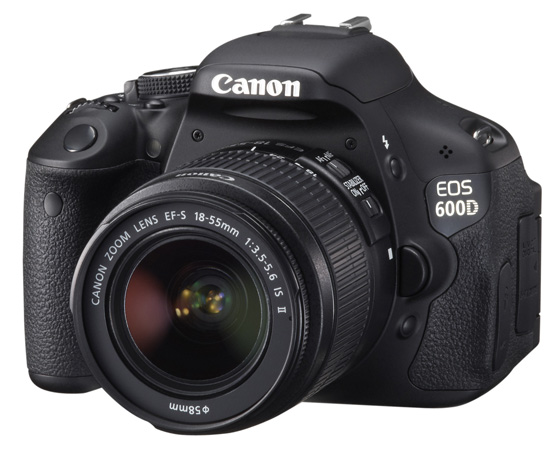 Entry-level in the mid-range market? Canon's EOS 600D
At the heart of the EOS 600D is an 18Mp, APS-C CMOS sensor. Notching up 18Mp is fast becoming Canon's sweet spot for its mid and high-end DSLRs – see also the EOS 7D, EOS 60D and EOS 550D. The ISO ranges from 100 to 6400, yet make a small adjustment in the custom settings menu and you can push it to ISO 12800. It's a very wide range range, but image quality is impressive across the board. Noise simply isn't a factor until ISO 1600 – and it merely shows its presence with a little softness and chroma noise at ISO 3200.
Even ISO 6400 is usable, which isn't something you could have said about any mid-range camera 18 months ago. Compared to similar still-life images from the Nikon D5100 (review next week), it's not quite as sharp or as refined, but for many, choosing between them is merely an exercise in hair-splitting.
Sensor details aside, image quality isn't particularly helped by Canon's EF-S 18-55mm f/3.5-f.6 II. It's a stabilised lens with no huge flaws – chromatic aberration isn't a major problem, and the stabilisation mitigates the relatively small aperture when zoomed in. However, it is rather soft, and keen photographers will do better to buy the EOS 600D body-only and invest in some superior glass.
The EOS 600D is a compact DSLR, with a smaller grip than Canon's more expensive offerings. With the front of the grip and the back of the camera coated with rubber where you grasp it, even ham-fisted types should have no problem keeping hold of it. It's also an easy to manage weight, at just under 600g without a lens.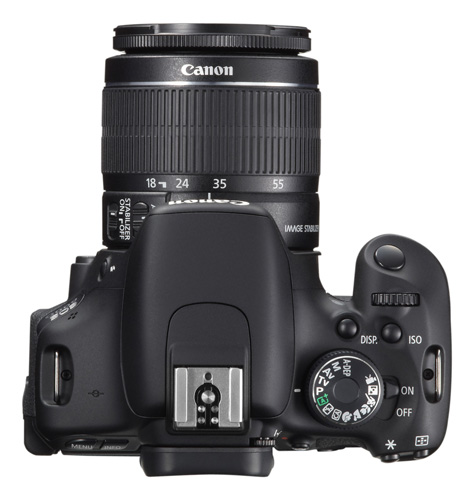 The video option on the dial is some way off from the other modes
If you're already Canon DSLR user, you'll find the body controls fall nicely to hand with no major surprises. The mode dial and control wheel click round satisfyingly, and the knobbly ISO and Display buttons on the right-hand shoulder are easier to find and press than those on the EOS 60D. The viewfinder covers 95 per cent of the frame with 0.85x magnification – a rather tighter viewfinder than some, but not enough to make framing difficult.