NSFW The lower portions of the US are distracting themselves from the Washington debt-ceiling car crash by asking whether the use of "truck nuts" constitutes obscenity or is a question of free expression.
The constitutional freedom issue has swung into the national consciousness after a South Carolina woman was ticketed for hanging a brace of the gargantuan plastic testicles from the backup of her pickup truck.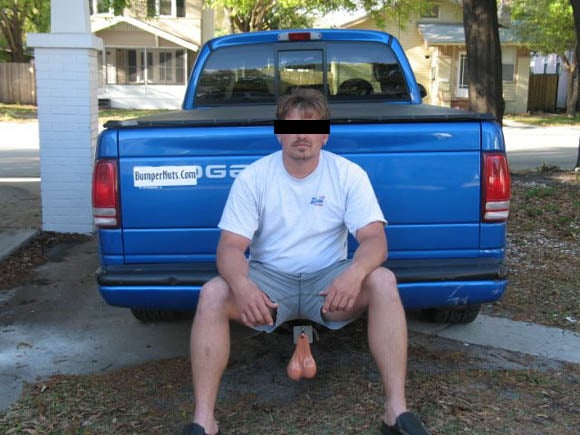 American ingenuity at its finest
Sixty-five year old Virginia Tice was given the $445 ticket under the state's obscene bumper sticker law, according to the Associated Press via local station WYFF.
However, Tice was not prepared to tuck away her testicles just like that, and has opted to let a jury trial decide whether having a big red pair of knackers swinging from the back of your trailer hitch is a threat to public morals or if it's constitutionally protected freedom of speech.
WCSC quoted local police chief Franco Fuda explaining, "Genitalia is offensive. As a law enforcement officer, I'll advise that if it warrants a citation, I'll issue a citation." The site also feature illustrations of a variety of truck nuts.
Locals have rallied to Tice's defence, with one telling the local ABC station that "People have the right to freedom of speech."
Fellow truck-nut swinger John Caddedl agreed it was a matter of "personal expression. My truck's got power."
By Thursday, the Abovethelaw.com blog was asking "Is a ban on truck nuts unconstitutional," adding that the case was "turgid with hypocrisy."
The case could be heard next month, assuming the US is still able to afford a legal system by then. ®