OCZ unsheathes Talos flash talons
Another flash drive clawing into HDD business
OCZ's Talos flash drive is set to claw into the enterprise hard drive business.
The Talos C Series is OCZ's 3.5-inch enterprise flash drive, in contrast to the Vertex, which is a consumer drive.
Talos is a 3.5-inch, 2-bit multi-level cell solid state drive (SSD), coming in 230GB, 480GB and 960GB capacities. It can run at 50,000 sustained 4K block read IOPS, and achieve 66,000 burst read IOPS and 35,000 burst writes.
It can do 28,000 write IOPS with 8K blocks and 34,000 8K read IOPS. OCZ says it is designed for mixed workloads and does 50,000 random read and write IOPS with 4K blocks and a 75 per cent read/25 per cent write mix.
The sequential read bandwidth goes up to 540MB/sec, while sequential writes occur at up to 350MB/sec.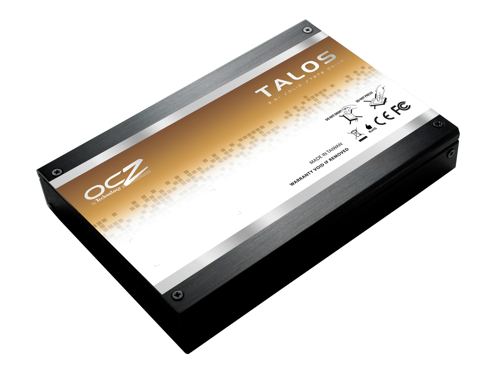 OCZ's Talos enterprise SSD
The drive's interface is 6Gbit/s SAS and it uses OCZs Virtual Controller Architecture 2.0 software. OCZ brags: "Traditional SSDs can only perform one read or write at a time; OCZ Talos drives, with VCA 2.0, can read and write simultaneously."
The Talos has power-loss protection, 128-bit AES encryption, ECC protection and SCSI Unmap.
OCZ claims Talos has "best-in-class endurance and reliability". Drive life is more than three times the rated P/E cycles of the flash and its write amplification rating is as low as 0.3.
These are all good figures and OEMs will be particularly interested in the product's endurance, performance once the fresh-out-of-the-box state is passed, and support.
On the face of it, Talos has claws and is another nail in the coffin that seems to be the future of 15,000rpm hard disk drives. It is available now. ®