This article is more than 1 year old
Mackie Onyx Blackjack USB audio interface
Solid sender
Geek Treat of the Week In the early 1990s, the Mackie name became synonymous with project studio recording consoles that, while not the most sophisticated, offered a good deal of routing flexibility and mounting options. The CR1604 was the breakthrough product for the company – a mixer that is still in production in various guises. The idea behind this and other Mackie products was to deliver low noise mic pre-amps, so that even though the mixer might be basic, the signal wouldn't suffer.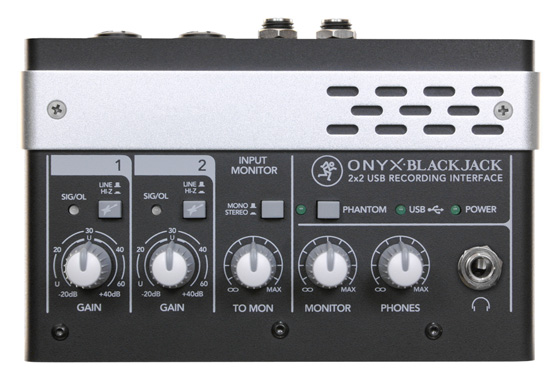 Sound choice: Mackie's Onyx Blackjack
Now owned by Loud Technologies, Mackie's design ethic still remains evident in the Onyx Blackjack dual channel USB audio interface. Now, this model isn't the cheapest of its kind and there's no MIDI or effects on-board either, but it's no flimsy plastic box that will fizz with interference as soon it you place it near a laptop. Its all-metal casing keeps it well-shielded and it has decent-sized knobs and switches on the control surface that tell you at a glance what's what. The weight of the Onyx Blackjack is an advantage too, at 800g it certainly doesn't be skate around the desk on the whim of a springy cable.
The back panel is home to a pair of balanced audio inputs on combo XLR/TRS jack connectors, with the monitor output on just balanced TRS jack sockets. There's also a USB port here, as the unit is bus powered from the host computer. It's all very tidy, leaving the cable sprawl at the rear, apart from the 1/4" headphone socket on the front.
The front panel kicks off with the gain controls for both channels with line/high impedance switching – the latter option being for mainly for guitars – that works on the 1/4" jack inputs. Use the XLR connectivity for mics and if you use the condenser sort, there is 48V phantom power switching available too. With any source, the signal presence light shines green so you can turn up the gain until it flashes red and then back off to keep it in the green to avoid distortion. All very simple.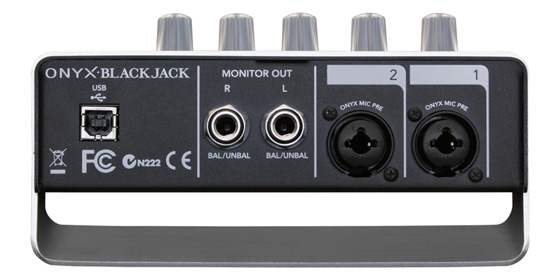 Balanced audio interfacing throughout
In the centre, the input monitor section performs duties of letting you either hear the signal direct. This way you avoid the oft-times distracting delay (latency) that you get from the signal being returned via the recording software. There's even a mono button for input monitoring, so if you're just tracking guitar, you don't get it in just one ear. If you can live with some delay, the niceties of panning and effects can be applied when playing from within the recording software. So you can ignore the input monitor option and just listen back from the main monitor output. The phones level is independent of the monitor too, which is useful.