A Swedish man was arrested and briefly detained for attempting to build a nuclear reactor in his kitchen.
"I've always been interested in nuclear physics and particle physics," the unnamed 31-year-old told the Helsingborgs Dagblad (Google Translate). "I have read many books about it and wanted to see if it worked. I just thought of it as an experiment."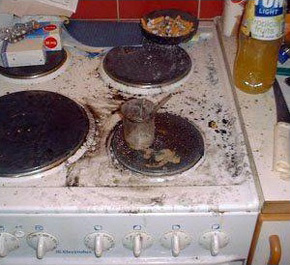 Stovetop nuke research (source: Helsingborgs Dagblad)
That experiment had involved radioactive materials taken from smoke detectors – presumably americium-241 – and other radioactive substances he had bought from a foreign source.
He also acquired a Geiger counter from the US. His expenses ran in the neighborhood of 5,000 to 6,000 kr ($780 to $940).
The amateur nuclear engineer wasn't secretive about his efforts. He had posted about the project on the internet, including an article entitled "How to build a nuclear reactor" in which he noted that it was "not that difficult" (inte är så svårt).
His run-in with the law came as a result of that openness. A couple of weeks ago, according to the HD, he wrote to the Swedish Radiation Safety Authority (Strålsäkerhetsmyndigheten) and asked if it was legal to build a home nuclear reactor.
The nuke authority told him that they'd drop by his Ängelholm apartment to check on radiation levels – and when they did, they brought the police with them. The constables arrested the would-be reactor maker, brought him in for questioning, then released him after his cooperative debriefing.
He hadn't planned on using the reactor to generate electricity, which he said would have been too difficult, seeing as how he'd have needed to build a turbine and a generator.
But he says his experimentation has ended for now. "They took all my stuff", he told the HD. "Now I keep it at the theoretical level." ®
Bootnote
This home-reactor escapade is similar to the adventures of David Hahn, whose efforts were immortalized in a 2005 book entitled The Radioactive Boy Scout. However, although Hahn's first DIY reactor dreams were overturned in 1995, he was arrested in 2007 for stealing 16 smoke detectors. At age 31.